Downtown 'HomeWalk' works to put a dent in homelessness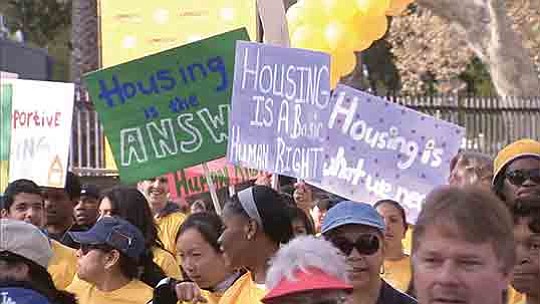 The Los Angeles County Sheriff's Department (LASD) may house each day an average of 3,000 inmates deemed homeless and certified by experts as mentally ill. There's not enough room at the Twin Towers jail facility downtown, therefore plans are in motion to construct a larger facility to house and provide treatment for mentally ill homeless individuals, most of which wait months to go to trial. LASD officials have launched the Just In Reach (JIR) program designed to help curtail homelessness among people experiencing repeat jail stays. For the next four years, the JIR program hopes to place about 300 homeless inmates who have a mental health and/or substance abuse problem into permanent supportive housing.
King believes a "reward system" for staying off the streets—and off drugs and alcohol—could be a more practical method to address homelessness.
"One way to help the homeless get back on their feet is a program that provides assistance for wages," King suggested. "Not simply a job—because some people simply don't want to work—but something to do every day. Some type of worthwhile activity that assists others and keeps that individual occupied and productive. "
King said the little things you can do for a homeless person can pay big dividends. A pair of shoes and socks. A warm blanket or a sweater during the winter months. These gestures, he said, can restore self esteem and show the individual that better days may lie ahead.
"I'm happy to participate in the HomeWalk because it helps to raise awareness to the problem of homelessness," King noted. "If the money we raise can be best used treat persons with substance abuse problems, then we will have accomplished a great deal. We need doctors to accommodate these persons. We need better understanding from law enforcement when encountering a homeless person with mental illness. Mostly, we need compassion from the public."
Over the past 10 years, The United Way has raised more than $7.6 million locally for homeless outreach. Chris Ko is the director of Homeless Initiatives and the organization's Home For Good program and says their work serves as a "community voice" for more than 100 non-profit agencies who work toward solutions for the homeless epidemic.
"We have a good relationship with the county and the various municipalities who deal with homeless persons every day," Ko said. "Skid Row is not the specific epicenter of homelessness. In South Los Angeles, homelessness has increased by 24 percent in one year. This is particularly true along the 110 Freeway corridor and that's due partly to the changing face of Downtown LA and the movement into South LA, Watts, Compton and as far south as San Pedro."
Because there is such a disproportionate percentage of African American homeless persons, the United Way of Los Angeles has established "Street Outreach Teams" to rebuild trust and confidence between the homeless population and ordinary citizens. Each day, residents from throughout the county will encounter homeless persons and offer information about health services, job training and places to go for shelter and food. Mostly, they help to provide a renewed sense of humanity for homeless persons.
"We try to address many needs this way," Ko said. "The money we raise in events such as the HomeWalk and other events taking place throughout the year are matched by the county. This goes a long way toward providing needed services that can change lives."