Downtown 'HomeWalk' works to put a dent in homelessness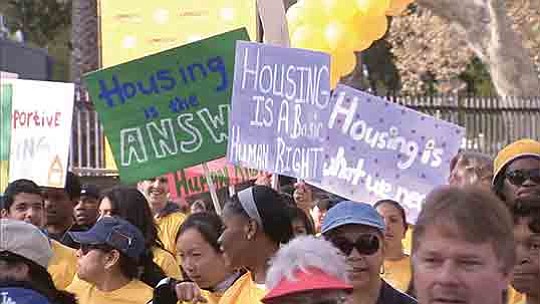 With the number of homeless individuals swelling to more than 57,000 in Los Angeles County, the United Way of Greater Los Angeles is trying put a dent in that number by hosting on Nov. 18 its 11th annual HomeWalk at downtown's Grand Park.
Los Angeles has been battling homelessness for many years. The recent uptick in persons living on the street and in shelters resulted in the March passage of Measure H which went into effect Oct. 1 with the lofty goal of generating a minimum $355 million annually via a .25-percent county sales tax. The HomeWalk could add another $1.5 million to his effort.
County officials have said that the city of Los Angeles has thousands of fewer shelter beds than it had in 2009, and that there is only one shelter bed available for every four homeless persons. That's one of the nation's lower shelter bed rates.
"Homelessness is an issue that's bigger than any one of us," said Elise Buik, president and CEO of United Way of Greater Los Angeles. "HomeWalk is United Way's signature event of the year because it mobilizes thousands of Angelinos to not only give a voice to those who are silent, but find and fund solutions that work."
Among those persons "without a voice" is Juan King who for 27 years has been homeless. The 51-year-old Alta Dena native will participate in the HomeWalk because the amount of people living on the street, he said, is becoming untenable.
"It's like a never-awakening nightmare," King said of the typical day for a homeless person. "You wake up each morning and look at the day as a struggle—a struggle you have to face alone—because there are so few resources available to help people."
King said there is desperation for change among the homeless population. They didn't start out that way as most had a job, shelter and family. But one bad break after another, he explained, can mean the difference between hope and despair.
"It's a very negative day for the homeless person," King said. "I suppose people come to Los Angeles because of the warm weather, but if you think there is a wealth of services available to homeless people, you're sadly mistaken. This community needs more assistance—and not just financial—from local, state and the federal government to get people off the street and back toward gainful employment which benefits society as a whole."
King said the familiar antecedents of homelessness such as mental illness, drug and alcohol abuse are factual, but only to a point. Most persons, he said, have simply fallen on hard times and need a "hand up," rather than a "hand out." Ordinary human kindness, he commented, is lacking in American society.
"Love among U.S. citizens has cooled off," King said. "We used to care for poor people, but that's no longer the case. Instead we lump homelessness and mental illness in the same basket. Yes, there are many homeless persons who suffer from mental illness, but the majority are not dangerous to themselves or society. They've lost their way, and while alcohol and drugs are only part of the issue, there are so many different reasons why a person becomes homeless."