Black flag makers discuss latest controversy over national anthem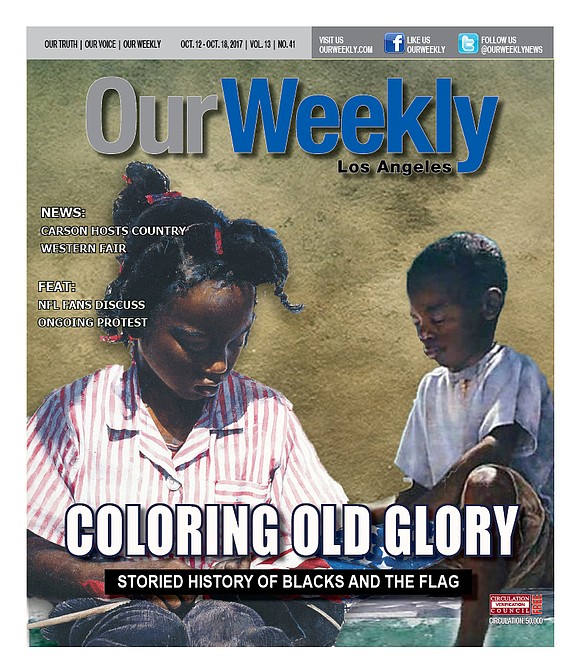 'We believed in the government'
"My husband and I felt, we as African Americans, were a patriotic people, regardless of how we were treated by our society. We believed in the government, we believed the country would eventually fix itself. Racism would go away and this society would work for us (African Americans), God willing.
"I was employed by the federal government, my husband was employed as a bricklayer and we believed in this country. We also believed that the nightly newscasts of police and attack dogs often seen biting Blacks would pass and those bad images would become remnants of history and individuals like Dr. Martin Luther King would convince this country to change its evil ways towards us. I guess you could say we were patriots."
Prescott described how African Americans would take bundles of nylon fabric which was cut and stitched into large nylon flags that were folded when finished and placed on a large table to be boxed and shipped out to our service men.
Prescott was asked if she regretted doing her job after viewing the newscasts and she responded, "yes," in noting that during the Vietnam War she had to fill orders for "9 by 5s" in explaining that these flags were draped over the caskets of fallen American soldiers. In the early 1960s, she remembered, the news footage of protesters being bitten by dogs and assaulted with fire hoses "demonstrated what the country stood for back then as a nation [functioning] on racism and White supremacy," she said.
"A lot of African American boys from Philadelphia died over there, and it was a form of White supremacy because more Blacks (per capita) died in Vietnam than Whites," Prescott explained.
'I do not like this president'
Prescott was asked if she would have the same positive attitude about manufacturing the American flag today, and she responded " no." When asked why, she stated, "my granddaughters have shown me video footage that shows Black men being murdered by police; that's awful, and I do not like this president (Trump). I do not like his approach. I have always loved the flag and the national anthem before Trump got involved. I always felt this was our country too."
A Pew poll from July revealed that African American seniors are more patriotic than the younger generation of Blacks. President Trump's track record with younger African Americans (baby boomers forward) is influencing far less patriotism than what was the case over the last several presidential administrations.
Los Angeles native Martha Nash, 48, she has served time for a parole violation and recently was released from the Central California Women's acility.
Nash calls herself a Vexillologist, or someone who works with flags. She worked in the industry for four years. She said she felt patriotic maybe twice while making flags, once on 9/11 and again when President Barack Obama was elected in 2008.
"It is very difficult to have a small amount of patriotism because of socio-economic conditions that led you to prison," Nash said. "There are no rich people incarcerated, it's all people of color. Not only did we make flags, we made products for Starbucks, Victoria's Secret, and Mcdonald's.