Black flag makers discuss latest controversy over national anthem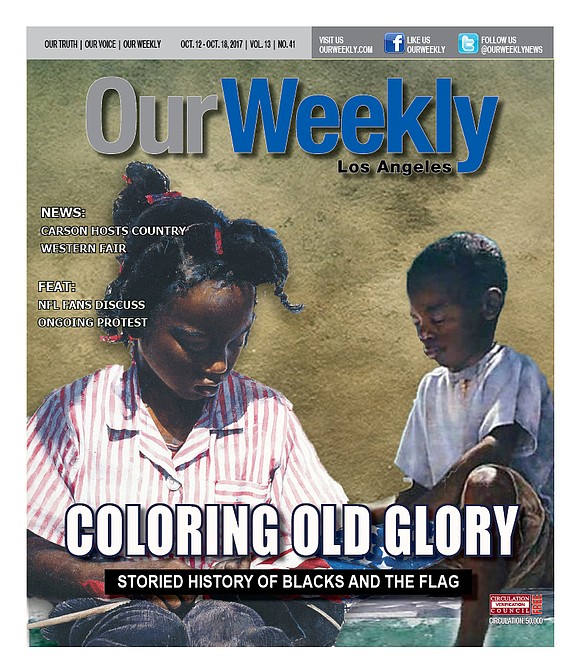 Our Weekly spoke with two African American U.S. flag makers about their thoughts on the active protest by professional athletes during the national anthem. But first, an overview of how the protest developed is in order:
Former San Francisco 49er quarterback Colin Rand Kaepernick, ("Kap") gained nationwide attention in 2016, when he chose not to stand during the "Star Spangled Banner" prior to a kick-off. His decision not to stand was in protest to what he believed was unjust and unfair treatment of African Americans, particularly in regard to interactions with law enforcement:
"I am not going to stand up to show pride in a flag for a country that oppresses Black people and people of color," Kaepernick told NFL Media in August 2016.
Demonstrations span American sports
The demonstrations have generated mixed reactions whereas opponents to his stance have stated that such protests are unpatriotic and disrespectful to the flag and military, while proponents believe it is an opportunity for those who have such far-reaching platforms to create change.
In September 2017, President Donald Trump seemed to fuel the flames of the protest as he said NFL owners should respond to the players who refuse to stand by saying, "Get that son of a bitch off the field right now; he's fired!" Further, the president rescinded a White House invitation to the Golden State Warriors, following Steph Curry's sharing of his opinion on and support of the protest:
'We're doing what we can using our platforms'
"You can talk about all the different personalities that have said things and done things—from Kaepernick to what happened with football player Michael Bennett to all sorts of examples of what has gone on in our country that has led to change," Curry said. "We're all trying to do what we can using our platforms, using our opportunities to shed light on that. That's kind of where I stand on that. I don't think us going to the White House will miraculously make everything better, but this is my opportunity to voice that."
Mary Prescott, 81, sits patiently as her daughter prepares her lunch, and informs her that a reporter is here to speak with her about making flags. She smiles and invites me in. Prescott was employed by the United States Department of Defense as a textile worker, at the United States Defense Personnel Support Center, located in Philadelphia, Penn. She was assigned to the embroidery section from 1956 until 1975 as a seamstress, in addition to operating a huge embroidering machine she also used other sewing equipment for cutting, seaming, and stitching of the United States Flag.
"I was proud to work in the defense industry, and there were a lot of Blacks working there," she said. "A lot of times we would have items that would not pass inspection, and I would bring those items home to my two sons. It could be military banners, armed forces flags, presidential pennants that were from the following administrations—Kennedy, Johnson, Nixon and Ford—, and marker flags for military air drops. They would share the items with other neighborhood boys.