In an emergency, early preparedness can mean difference between life, death
Ways to keep you, family safe and secure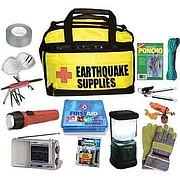 You can take your pick among emergency situations in Los Angeles. From earthquakes, storms, floods, brush fires—even the occasional riot—the face of the City of Angels can belie a devil's persona. And while we may host the best trained and most experienced corps of emergency responders in the world, sometimes that may not be enough.
That's why emergency preparedness is so vital to survival. The 7.1 earthquake that hit south of Mexico City last month (and the 8.1 temblor off the Mexican coast a few weeks earlier), the series of hurricanes and resulting flooding that stuck the Caribbean, Miami, Fla., and Houston, Texas, are each a reminder that preparing for the unexpected is a wise investment in time and resources.
The "Big One" closer than we think
The state Office of Emergency Services, and its counterpart in Los Angeles County, say that a big earthquake of 8.0 or more would overwhelm police and fire crews and require citizens to take care of themselves for several weeks. The vivid images of Mexico City, Houston and San Juan, Puerto Rico, however, may not be enough to persuade Angelinos to stock extra food and water, flashlights and batteries, a radio, some cash—the bare necessities—to see them through a prolonged period of turmoil.
Los Angeles is overdue for the "Big One" that would likely start along the San Andreas Fault which stretches from the Salton Sea to Monterey County and beyond. Temblors like the 1994 Northridge quake and the 1989 Loma Prieta quake each killed dozens of people. While those measured 6.7 and 6.9 respectively on the Richter scale, experts now predict a 19-percent chance that a major quake of 7.0 or more will hit the south end of the San Andreas sometime in the next 20 years. There's a seven-percent chance of an 8.0-or-larger earthquake occurring over that time span or sooner.
If an 8.0 earthquake struck metropolitan Los Angeles, experts at Cal Tech say it would pack nearly 90 times more energy than the Northridge quake. Dr. Lucy Jones, the familiar seismologist whom the city traditionally calls upon to explain the shaking, said while she and her colleagues can only study earthquake patterns, it is the citizens who must be proactive about their safety.
Storms and flooding always major concern
"The Mexico quake reminds us that science can tell us what the impact can be, but society has to take action to prevent catastrophic damage," Jones said.
While the West Coast usually does not feel the brunt of hurricanes—only high tides left over from events near Hawaii or traveling north from the Baja Peninsula—it is nonetheless crucial that residents try to work in tandem in case of a severe storm and resulting flooding. The El Nino events of years past can give a clue as to the danger of powerful storm systems involving the Los Angeles Basin.
"The first people to assist you are going to be your family and your neighbors," said Aram Sahakian, general manager of the Los Angeles Emergency Management Department (EMD). "It is very important that you meet with your neighbors—people in the 10 to 20 homes closest to you-and begin to make plans in case of an emergency."