Prince Harry, Meghan Markle bridge social, cultural worlds
Royal Wedding scheduled in May 2018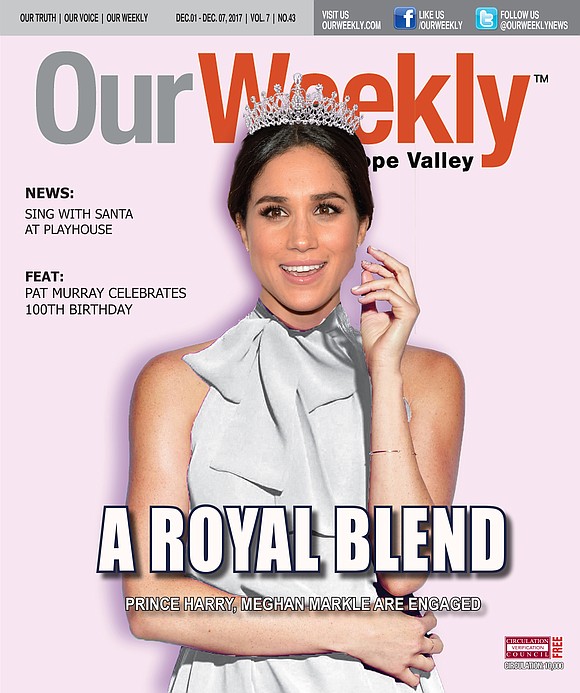 British Prime Minister Theresa May offered her "warmest congratulations" to the pair, adding:
"This is a time of huge celebration for two people in love. On behalf of myself, the Government and the country, I wish them great happiness for the future."
Cheers from View Park
Markle's parents, Thomas Markle, a cinematographer, and Doria Ragland, a yoga therapist, said in a statement that they were "incredibly happy" at the news. Ragland resides in View Park.
"Our daughter has always been a kind and loving person. To see her union with Harry, who shares the same qualities, is a source of great joy for us as parents. We wish them a lifetime of happiness and are very excited for their future together."
Markle, 36, has reportedly finished filming her final scenes for "Suits" where for the past seven seasons she portrayed paralegal-turned-lawyer Rachael Zane. Markle has also appeared in "CSI Miami," "90210" and "General Hospital. "Film roles have included Jamie in "Horrible Bosses" (2011) and as Megan in "Remember Me" from 2010. Other appearances included roles in "Without A Trace," "Castle" and the science fiction series "Fringe." Markle said this week that she will be retiring from acting to focus on a "new chapter" in her life. Markle, who resides in Toronto where "Suits" is filmed, was previously married to film producer Trevor Engleson for two years prior to a 2013 divorce.
'We are a couple. We are in love'
In September's Vanity Fair cover story, Markle, who in times past would be referred to as a "commoner," described the fifth in line to the British throne as her "boyfriend" and talked about how they kept their relationship private despite intense media interest:
"We are a couple. We're in love. I'm sure there will be a time when we will have to come forward and present ourselves and have stories to tell, but I hope what people will understand is that this is our time. This is for us. It's part of what makes it so special, that it's just ours. But we're happy. Personally, I love a great love story."
The couple made their first public appearance that month, watching a wheelchair tennis event at the Invictus Games, the international sporting event established by Prince Harry for injured soldiers. Prince Harry served in the British Army for 10 years, rising to the rank of captain and undertaking two tours of Afghanistan.
Markle attended a private primary school in Los Angeles, before attending Immaculate Heart High School in Los Feliz. She matriculated to Northwestern University in Evanston, Ill., studying theater and international relations. Markle is a global ambassador for World Vision Canada, a Christian humanitarian organization.
An 'ethnically ambiguous' actress
During her youth in Los Angeles, Markle said she frequently traveled and shopped along Crenshaw Boulevard and made many fond acquaintances over the years.
In 2015, Markle wrote an article for Elle UK and discussed certain difficulties in forging a career as a biracial actor. She admitted that being "ethnically ambiguous" helped her to audition for virtually any role.