Prince Harry, Meghan Markle bridge social, cultural worlds
Royal Wedding scheduled in May 2018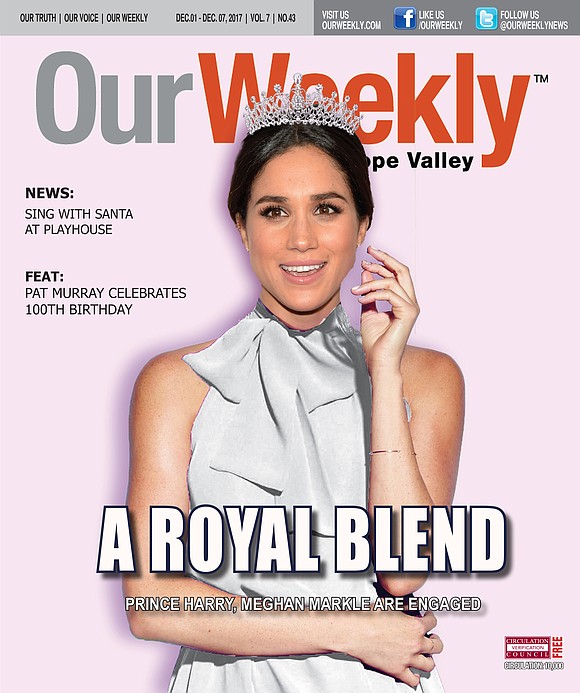 Wedding bells will ring in the spring when Prince Harry marries actress and Los Angeles native Meghan Markle in an unprecedented love story demonstrating a cultural shift within Great Britain's Royal Family.
Markle, who's mother is Black and father is White, formerly co-starred on the USA Network drama "Suits." Prince Harry of Wales, youngest son of Charles, Prince of Wales, and the late Diana, Princess of Wales, is fifth in the line of succession to the British throne behind his father, elder brother, William, and his nephew and niece George and Charlotte.
The Duke and Duchess of Sussex
The couple will be married at St. George's Chapel in Windsor Castle in May. At that time, they will be officially named The Duke and Duchess of Sussex. It is unknown whether Markle will be named a princess after marriage. Prior to the ceremony, Markle is expected to be baptized into the Church of England. Today, the couple will undertake their first official engagement in Nottingham, England where they will visit a Terrence Higgins Trust charity fair and meet with representatives of organizations supporting people living with HIV/AIDS. While there, the two will speak to staff and mentors at Nottingham Academy about the Full Effect program which works to prevent young people from turning to violence and crime.
It was a whirlwind courtship culminating in Monday's announcement that the two were engaged. Speaking on Monday outside Kensington Palace, Prince Harry said he knew that he would marry Markle after their first meeting—a blind date—and that "the stars were aligned when I met Meghan."
Prince Harry said he popped the question earlier this month at Nottingham Cottage, his home at Kensington Palace, while they were roasting a chicken for dinner. Markle said she answered "yes" immediately before he had even finished proposing. "It was so sweet and natural and very romantic," Markle said.
Tea with The Queen
Prince Harry was asked this week what his late mother would think of his bride and said they would have been very close. "They'd be thick as thieves, without question," he said. "I think she would be over the moon, jumping up and down, you know, so excited for me."
Markle said she has met Queen Elizabeth II "a couple of times" with Prince Harry commenting that his grandmother's famous corgis liked his fiance right away. "I've spent the last 33 years being barked at; this one walks in, absolutely nothing." "They were just laying on my feet during tea," Merkle said. "It was very sweet."
The Royal Family issued an official statement this week congratulating the couple. "The Queen and The Duke of Edinburgh are delighted for the couple and wish them every happiness."
Prince Harry's brother and sister-in-law, William and Kate the Duke and Dutchess of Cambridge, said they were very excited for the couple. "It has been wonderful meeting Meghan and to see how happy she and Harry are together."
Speaking during a visit to Poundbury, Dorset, Prince Charles told reporters that he was "thrilled" and "very happy indeed" at the impending nuptial.