Sexual harassment, abuse claims roil nation from Hollywood to Capitol Hill
More women confront age-old indignity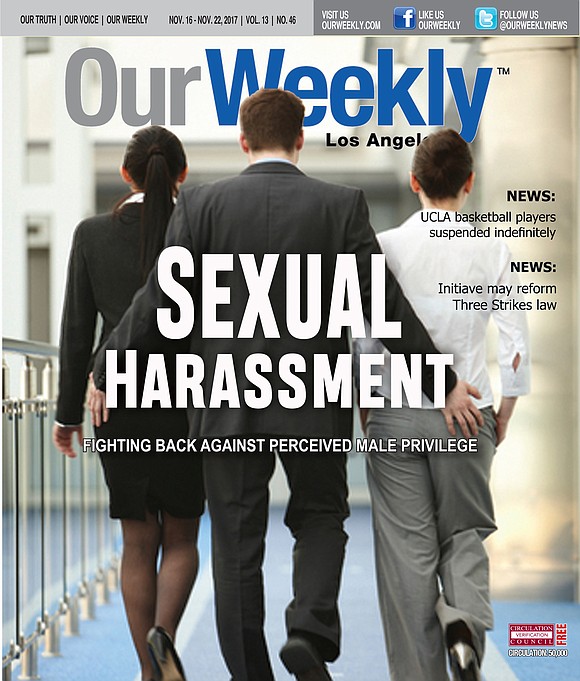 From Hollywood to the nation's capitol and virtually all points between, allegations of sexual harassment against some of the most famous and influential persons have captivated public attention for the past three months.
The list grows each day in exposing how powerful celebrities and politicians have used their positions to curry sexual favors from primarily younger, impressionable men and women who feared their professional success may be derailed if they dare speak to these incidents.
Infamous 'casting couch'
The story may have began outright two years when dozens of women accused comedian Bill Cosby of drugging and then forcing himself upon them while they were in a vulnerable state. Then the floodgates seemingly opened this summer when producer Harvey Weinstein was accused of sexual assault and harassment. Since then, more than 60 women have come forth to accuse the disgraced filmmaker of sexual impropriety.
Now the names include Kevin Spacey, Louis C.K., Richard Dreyfuss, Dustin Hoffman, George Takei, Roman Polanski, Steven Segal, James Toback, Woody Allen, Bret Ratner and Jeremy Piven. Actor Terry Crews revealed recently that while he and his wife were attending a Hollywood party, a well known talent agent, Adam Venit, approached him and inexplicably grabbed his private parts.
The incidents of sexual abuse in Hollywood are not confined to adults. Former child star Cory Feldman hinted during an October interview on the "Dr. Oz Show" that the former owner of Hollywood underage club—the "soda pop club"—popular among top teen stars of the 1980s including Drew Berrymore, Ricky Schroder and Alyssa Milano, was notorious for pedophiles who would regularly ply the teens with alcohol and drugs and try to lure them into sexual encounters.
Huge settlements at Fox News
Last year, the late Roger Ailes of Fox News as well as host Bill O'Reilly signed off on multi-million-dollar settlements with former Fox news anchors and employees. Former Fox News host Gretchen Carlson claimed she was fired for rejecting Ailes' sexual advances. Megan Kelly, now with NBC News, leveled similar claims of harassment against Ailes. Former Fox news anchor Lis Wiehl settled a sexual harassment case against O'Reilly for a reported $32 million. This case does not include a reported $13 million paid out by O'Reilly and Fox News to another five female employees in exchange for their silence.
Even former President George H.W. Bush is not immune as allegations have surfaced that he inappropriately touched some young women decades ago. Former President Bill Clinton had to weather a similar storm during his 1992 election campaign, only to have such charges resurface six years later leading to his impeachment.
National politics not immune
During his confirmation hearing in 1991, Supreme Court Justice Clarence Thomas had to mount a vigorous defense against sexual harassment charges brought forth by law professor Anita Hill. And, of course, President Donald Trump was caught on audio tape during the 2016 campaign joking about grabbing young, desirable women "...by the psy."
Alabama Judge Roy Moore, now seeking election to the United States Senate, is embroiled in a sexual harassment scandal so scurrilous that some Republicans on Capitol Hill are requesting that he drop out of the race.