Santa Clarita is among America's most healthy cities to reside, visit
J.D. Williams OW Contributor | 11/9/2017, midnight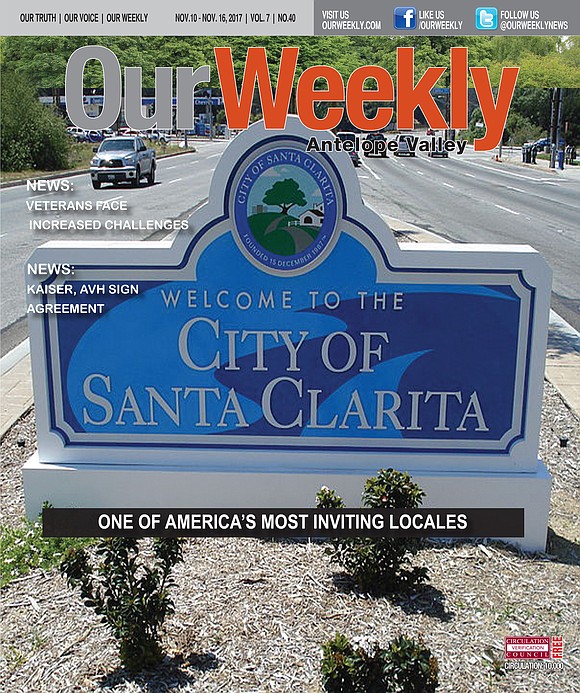 Fitness (5 out of 5)
"Seasons" is the city's recreation registration page where visitors can explore and sign up for classes, activities, programs, events, and can be easily navigated by searching key words such as yoga, zumba, swimming, cooking classes, or by the park site nearest you, to find an activity that corresponds with your interests.
The city also has dedicated websites such as Bike Santa Clarita (bikesantaclarita.com) and Hike Santa Clarita (hikesantaclarita.com) to let visitors, and residents alike, know where the best places are to get in some outdoor physical fun.
Bike Santa Clarita is a website dedicated to creating an environment that promotes safe and fun bicycling experiences. It assists in locating challenging mountain terrains, miles of bicycle lanes, paseos, off-street trails, and multi-use trails. The city proudly boasts an over 115-mile bike network including 30 miles of on-street bike lanes/routes, 38 miles of paved bike paths, and 47 miles of natural paths which are also great for walking.
Green space (5 out of 5)
Equally impressive, Hike Santa Clarita also has a dedicated site which links travelers to all of the city's beautiful hiking trails and open space and offers interactive maps that can be downloaded to your phone using their mobile app.
Also contributing to the increased interest in fitness in the city was the expansion of the annual Youth Sports Festival that began in 2009 at Santa Clarita Central Park. This event, while successful in its own right, still limited the activities that could be featured and the number of attendees. Therefore in 2012, the festival was moved to the Santa Clarita Sports Complex, which houses the aquatic center, activities center, gymnasium, and skate park allowing a wider range of activities for all skill levels and abilities for youth and families in the community. The event also incorporated a Healthy Families Festival component that addresses making wholesome choices and promotes a health-conscious community. The new and improved Youth Sports and Healthy Families Festival now garners more than 3,000 guests annually.
Food (4 out of 5)
The availability of better food options is another factor in why Santa Clarita scored high as a healthy city.
Restaurants such as the Lyfe Kitchen and the Eat Real Cafe have menus packed with special dietary options such as vegan, vegetarian, gluten-free and non-gmo, as did many other restaurants in the city and surrounding area. A great tool for tracking down these, and other similar restaurants are applications like Happy Cow, which do all of the work for you. Happy Cow specializes in keeping an updated catalog of all vegan and vegetarian restaurants. All travelers need to do is enter the zip code or city for the area and Happy Cow will provide them with a restaurant summary complete with photos, reviews, and contact information for the venue.
The website, The Primal Traveler, is a similar resource for those looking for Paleo options while traveling.
For those dining at home with families during their travels or staying in an AirBnb with its own kitchen, the Healthy Santa Clarita site also offers a "Create Your Plate" tab which offers plenty of valuable information such as navigating nutrition labels on packaged foods, understanding serving size and portion control, making better drink choices to avoid a high sugar intake, and successful snacking on the go.