Santa Clarita is among America's most healthy cities to reside, visit
J.D. Williams OW Contributor | 11/9/2017, midnight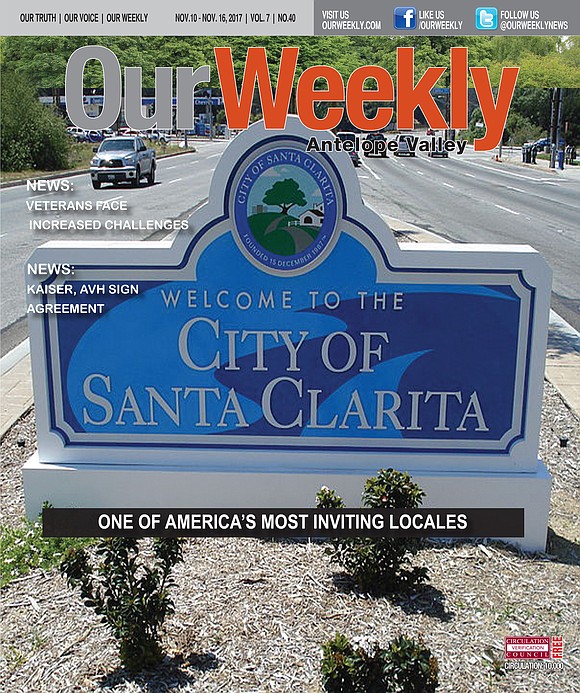 As the holiday season approaches at what feels like break-neck speed, many travelers have already booked plane tickets to visit family. Others are abandoning the cold weather for warmer temperatures in exotic locales, and some adventurers may take the opportunity to go on a solo road trip.
One daunting truth about the holidays is that it is usually when we pack on a few extra unwanted pounds while gym visits decrease in their frequency and second helpings of your favorite fixings become commonplace. But there is good news. Expedia just released its Wellness Report for the 15 healthiest places to travel in the U.S. and Santa Clarita made the list, scoring a 21 on a 25-point rating scale.
Here's the methodology for ranking the cities.

For each of the five criteria, each city is given a score from 0 to 5. The overall score can be as high as 25. The research includes a city's fitness opportunities, healthy dining, and "ParkScore" as well other data from reputable publications. The rating criteria breaks down this way:
Fitness: The study took into account the quantity and variety of fitness facilities per capita according to the 2010 U.S. Census and considered the size of the city as well as the easy access to outdoor activities, like hiking, surfing, and cycling. Fitness and recreation centers that offered drop-in classes for travelers were a requirement.
Green space: The survey took the Trust for Public Land's ParkScore into account for this rating and to inspire further research of the region. Square acreage of parkland and amenities close by such as walking trails contributed heavily to score.
Food: While what is considered "healthy" tends to vary by individual preference, the highest food scores were given to cities that catered to a variety of health-related dietary needs, specifically vegan and vegetarian, paleo, gluten-free, organic, and locally sourced.
Spas: In this category, cities with a health-focused spa culture that incorporated massage therapy, natural products, and licensed counselors.
Groups and events: The quantity of local meet-ups on topics including wellness, meditation, healthy eating, exercise, and emotional support as well as community organizations and clubs with a health focus.
Santa Clarita has been on a health kick for some time, and it appears to be paying off. According to a report by the League of California Cities, the first-ever release of childhood overweight and obesity numbers by city, conducted by UCLA Center for Health and Policy Research and the California Center for Public Health Advocacy, showed that almost 30 percent of Santa Clarita's students were obese. This was particularly alarming since more than a quarter of Santa Clarita's population is under the age of 18.
The shocking data produced by the CDC and UCLA, along with the goal of changing the community's culture in regards to health and fitness prompted the city to take an even closer look into programs and services that emphasize the importance of developing healthy habits. In 2013, Santa Clarita launched HealthySantaClarita.com, a website designed as a resource for simple, inexpensive, and fun ways to incorporate healthy habits into homes and families. The site provides residents with information and solutions to battle the epidemic of obesity and offer links to the many programs and classes offered in Santa Clarita.