America's veterans face host of challenges returning to civilian life
Merdies Hayes Editor In Chief | 11/9/2017, 4:27 p.m.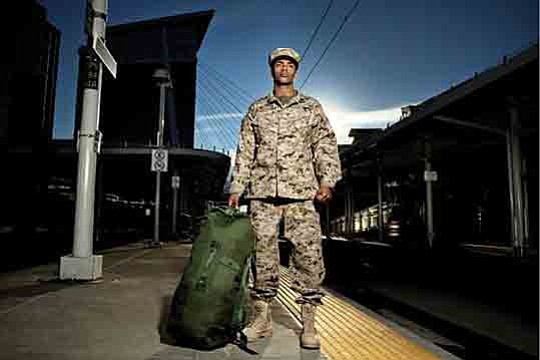 As the nation pays tribute this weekend to the service and sacrifice of its veterans, the Antelope Valley offers a number of outlets for these individuals, many of which are in need of care.
Antelope Valley College operates a Veterans Resource Center available for use on the second and fourth Tuesday of each month in the campus Student Services Building. Veterans are invited to the "MREs" (Meet, Relax and Eat) emphasizing fellowship with fellow veterans. Snacks and refreshments are always served, but more importantly, veterans can use computers, conduct conferences and host study groups and club meetings.
The San Fernando Valley Dental Society will host from 9 a.m. to 4 p.m. today a free veterans dental outreach event at 868 Auto Center Dr., Suite D, in Palmdale. For details, call (661) 940-0583.
The Lancaster Elks Lodge, 240 East Avenue K, will serve a free pancake breakfast at 8 a.m. tomorrow. Following the breakfast, attendees will travel to the Palmdale Amphitheater, 2723 Rancho Vista Blvd., for a special ceremony at the AV Mobile Vietnam Memorial Wall. Bus transportation for the AV Wall day trip has been arranged at 7:25 a.m. at Grace Chapel, 44648 N. 15th Street West. Register before noon today for the day trip at (661) 940-5272.
While the majority of World War II veterans are no longer with us, music lovers can enjoy the sounds of their generation as the Wartime Radio Review presents the big band sounds of the 1940s tonight at the Lancaster Performing Arts Center. Peter Jacobs and his 16-piece big band will perform some of the greatest hits from Glenn Miller, Tommy Dorsey, the Andrews Sisters, Artie Shaw, Benny Goodman, the Mills Brothers and more. For details, call (661) 723-5950.
Americans officially observe Veterans Day, formerly Armistice Day, at the "11th hour on the 11th day of the 11th month." This tradition dates back to the end of World War I in 1918 when all major battles ended and Germany signed the Armistice. America since the Civil War has lost more than 1.3 million men and women in wars at home and abroad. In World War II approximately 405,400 lives were lost.
Veterans of America's most recent wars in Iraq and Afghanistan are facing critical issues that have profound effects on their quality of life. These pressing issues include Post Traumatic Stress Disorder (PTSD) and the risk of suicide, as well as homelessness, the latter resulting in difficulty returning to civilian life.
The Veterans Health Administration reported in 2015 that the suicide rate among male and female veterans and military service members exceeds the national rate for the general population. Veterans reportedly comprise 20 percent of national suicides, with approximately 22 veterans taking their life each day. Three out of five veterans who committed suicide were diagnosed as having a mental health condition, resulting from PTSD.
Military service members, veterans, and their families are a growing community exposed to traumatic events. Involvement in combat that causes losses and fears; injuries associated with combat; repeated deployments and/or relocations; and military sexual violence all may exert an emotional toll on military personnel, their loved ones and the community at large.