College friends revive prospect of Black banks
Hazel Trice Edney OW Contributor | 11/2/2017, 11:54 a.m.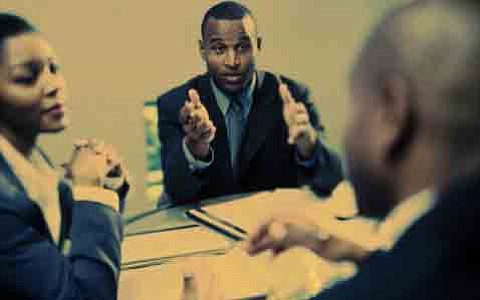 Marcus Howard and Charles Hands III, friends and colleagues since their days as students at the University of North Carolina at Chapel Hill, became increasingly amazed as they read a book about the history of Black business ownership in Durham, N.C.
In the early 20th Century, a hub called Black Wall Street bustled with Black economic vitality. Enthralled with the information, the two young professionals dug deeper and were shocked to discover that at least one of the businesses, Mechanics and Farmers (M&F) Bank, is now 110 years old and is still thriving in 2017 with an office in every major city in North Carolina. Greatly inspired, Howard and Hands decided to go into banking.
"We'd read about Black Wall Street and the millionaires and the business owners. And we said, 'Wait a minute, these African American people just got out of slavery and they created neighborhoods and prosperity. Why can't we get back to that?' That's why we went right to the bank looking to put our money in there," said Howard in an interview during the 90th anniversary of the National Bankers Association (NBA), a D.C.-based organization of minority-owned banks.
But when the 26-year-olds walked into M&F Bank to start the process of making deposits, they became disillusioned. Despite the fact that the historic Mechanics and Farmers Bank was still prospering and holding its own in a world of large White-owned banks, it had not kept up with advanced technologies and 21st century customer service methods.
"When we went into the bank, it was just not what we'd pictured," says Howard. "What we saw though was solvable. We knew that, okay, we can create a solution for it and we can help build it up to what we believe it could be and what we imagined it was while we were reading."
So, instead of walking out of the bank and bashing it on social media, Howard and Hands seized the opportunity. They decided to reach out to the bank's leaders in a way that would get their attention.
"We didn't email, we didn't call," said Hands. "We wrote a hand-written letter to the CEO and put a stamp on it and sent it off. In about a week, we got a call back."
That call came from James Sills III, president/CEO of M&F Bank. Then came a series of meetings between Sills, the two millennials and other bank officials. Those meetings have started a new life for all involved.
It resulted in the formation of the M&F Bank Millennial Advisory Board. It has also sprung into a brand new business called Engage Millennials, a consulting company that helps businesses to effectively serve the next generation of customers. Co-founded by Marcus Howard and Charles Hands, the company offers a team of experts specializing in social media, millennial strategic planning and millennial marketing.
"This is very important because these are our future leaders," says M&F Bank President Sills. "We need the energy. We need new customers. All businesses need new customers in order to survive. Partnering with this group; plus the other eight members of our millennial advisory board will help us in the area of technology and marketing. They're learning something from us and we're learning something from them. I think every bank is trying to tap into that group. I think they just need to figure out how."