Get foiled
Foil-packet cooking is hot, hot, hot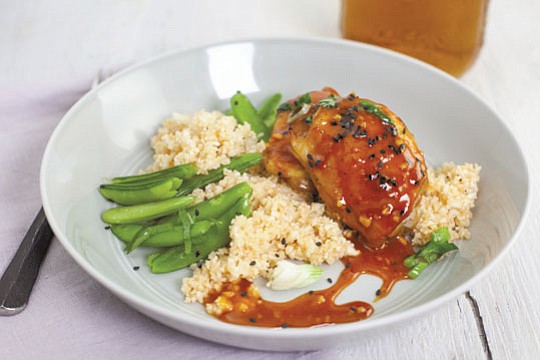 As the saying goes, big things come in small packages, and that may explain the burgeoning popularity of foil-packet recipes. Minimal preparation and cleanup are easy trade-offs for the immense flavors you can create in these tiny containers, whether you prepare them in the oven, on the grill or over an open flame.
The secret to successful foil cooking is locking in the layers of flavor from each ingredient. It's surprisingly simple to create delicious, healthy dishes when cooking with foil. An ingredient like seasoned rice vinegar offers a wholesome alternative to many condiments and flavorings while giving your packet a big flavor boost.
With no artificial preservatives, flavors or ingredients and no high-fructose corn syrup, Nakano® Rice Vinegars are the perfect solution for building better-for-you foil-packet meals. With organic varieties and easy-to-read labels featuring real, recognizable ingredients, you can feel great about layering delicious flavor into your next foil-packet meal with rice vinegar.
Garlic seasoned rice vinegar delivers a boost of flavor to this Asian-inspired chicken, creating a sensational main dish. Add crisp fresh veggies tossed with organic rice vinegar and garlic as a side then finish the meal with a sweet take on a juicy fruit crisp.
Find more inspired ideas for healthy meals at Mizkan.com/Recipes.
7 steps to the perfect foil ouch
A 12-inch square piece of foil is a good starting point, but you may need to adjust depending on the recipe. Remember you'll need plenty of extra room around the ingredients for the heat to build up and cook the contents to perfection.

Use heavy-duty foil to avoid tears or poor seals that can spill ingredients and precious seasonings and juices.

Spread foil on a flat surface and add a light nonstick spray, if needed.

Place ingredients and seasonings in the center of the foil.

Bring long sides of the foil together over the food. Pinch together and make 1/2-inch folds straight across at least twice for a strong seal. Remember to leave plenty of open space between the foil and food.

Make 1/2-inch folds on each short end, folding toward food but leaving at least 1 1/2-2 inches between the seam and food.

Handle pouch with care to avoid piercing or tearing, and always use tongs to remove pouches from heat.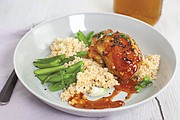 Gochujang-Glazed Chicken
Servings: 4
Prep time: 10 minutes
Cook time: 45 minutes
4 tablespoons Nakano Seasoned Rice Vinegar - Roasted Garlic
2 teaspoons gochujang (chile bean paste)
6 tablespoons maple syrup
4 teaspoons soy sauce
2 tablespoons, plus 2 teaspoons, olive oil
4 teaspoons Dijon mustard
1/2 teaspoon salt
1/2 teaspoon pepper
8 chicken thighs
4 cups fresh cauliflower, riced (use grater or food processer so cauliflower resembles rice)
1 1/2 cups fresh scallions, sliced
2 cups fresh sugar snap peas
3 sprigs fresh cilantro, for garnish
Heat oven or grill to 375 F.
In large bowl, mix together vinegar, gochujang, maple syrup, soy sauce, olive oil, mustard, salt and pepper to form marinade. Dip chicken in marinade and toss lightly until coated.