100 Trump actions in 100 days— to the detriment of Black progress
Hazel Trice Edney | TriceEdneyWire.com | 5/25/2017, midnight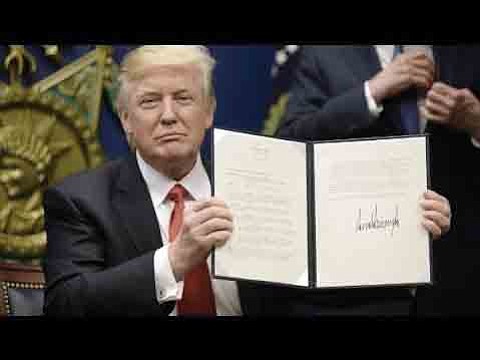 The Congressional Black Caucus (CBC) has released a list of 100 actions taken by President Donald Trump during his first 100 days that the CBC says have been detrimental to the country–especially the Black community.
"People of all ages and races, including many young people of color, are standing up and speaking out about this Administration's actions and how they will hurt our communities and the country," says CBC Chairman Cedric Richmond in a statement. "President Trump says he wants to make America great again but in our view the programs and policies he's implementing will do the opposite. We hope this list will help those who are engaged and those who aren't stay woke because our democracy is at stake."
"The list, titled 'What Did Trump Do?: The First-100-Days, #StayWoke List,' is a special edition of CBC's 'What Did Trump Do?' rapid response documents and includes actions across issues areas such as education, healthcare, and justice," says a statement. "The list is part of the CBC's effort to listen, involve, and mobilize young leaders during the 115th Congress, an effort that began a few weeks ago with the launch of CBC's tour of Historically Black Colleges and Universities, #CBCOnTheYard."
The phrase #StayWoke or "stay awake" is often used by African Americans in the social media arena to "remind themselves and those around them to stay focused on what's really being said and done to their community. As a result of the election of President Trump, the phrase has taken on new meaning; people of all ages and races are using it to remind themselves and those around them to stay focused on the programs and policies being implemented by this administration."
The following are among the items on the list:
"After meeting with 70 HBCU presidents and the White House stating the he wanted to give HBCUs "the proper respect," President Trump has proposed in his budget to give these institutions the same amount of money they received last year even though their operational costs are increasing.
President Trump has also proposed to cut programs that support students served by HBCUs including federal work study, Pell, and campus-based aid."
"President Trump has said many hurtful things about President Obama, including accusing the first Black president of a felony. On March 4, President Trump tweeted that President Obama wiretapped Trump Tower during the 2016 election. President Trump has provided no evidence that President Obama wiretapped Trump Tower even though he could easily provide it. In addition, on March 20, FBI Director James Comey told the House Intelligence Committee during a public hearing that the agency has 'no information' about the alleged wiretaps."
"After several sexual assault allegations and related legal settlements came to light about former veteran Fox News anchor Bill O'Reilly, President Trump defended the journalist. "I think he's a person I know well—he is a good person," said President Trump on April 5 during an interview with the New York Times in the Oval Office. "I think he shouldn't have settled; personally I think he shouldn't have settled. Because you should have taken it all the way. I don't think Bill did anything wrong." Days later Fox News canceled O'Reilly's show and announced that he would not be returning to the network."