'Coming out of the Shadows'
Minority cannabis advocates meet in Culver City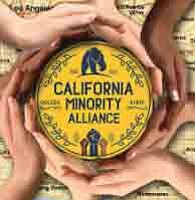 Among those in attendance was Desert Storm veteran Samuel Josiah Hunt II, who had used marijuana therapeutically since he sustained a knee injury in 1988. Never injured in combat, he none-the-less sustained a concussion from a baseball bat assault by a fellow soldier, which left him with Post Traumatic Stress Disorder (PTSD). He credits marijuana with weaning him off of liquid morphine, and other organic and synthetic pain killers prescribed by the military. Hunt avoided detection by random urinalyses by flooding his system with water.

"Marijuana has actually saved my life," Hunt claims, citing the kidney and liver failure experienced by long term opiate users.

A past owner of a dispensary in Washington State, he hopes to open another locally, especially for veterans.

A successful player in multiple media ventures (executive at MCA/Universal Records, manager for Snoop Dogg, voice-overs in video games), Donnie Anderson hopes to provide an economically viable entity for members of his community. Towards that end, he stresses three major components for those interested in involvement in this rapidly growing enterprise: 1) education; 2) empowerment; and 3) engagement.

Cat Packer spoke about the importance of acknowledging the impact drug laws have had on lower income and minority neighborhoods, a condition that still exists.

"In 2015, Blacks were two times more likely to be arrested for a marijuana misdemeanor, and five times more likely to be arrested for a marijuana felony," she notes.

The cycle of damage does not end there. Once arrested and convicted, Blacks have been labeled "criminals," impeding their access to education, housing, and other essential services.

"How do we repair the damage?" she asks.

With the passage of Proposition 64 in November 2016, the path has been cleared for people to have cases reclassified or rescinded. On top of this, however, she stresses the need for economic opportunities specifically for low income and minority communities. Currently, out of the 3,800 cannabis dispensaries operated nationwide, one percent are minority owned.
In preparation for Jan. 1, 2018, when the state starts licensing cannabis dispensaries, Packer hopes to raise the collective consciousness to equip the community with resources that will allow them access to this potential windfall.

"We are going to be locked out-and locked up," she says, summing up the alternative.

More information maybe accessed by calling (213) 254-5116, or going to the CMA website at https://www.californiaminorityalliance.com.