One Medical School's plan to Increase Black Doctors Ranks
Stacy M. Brown (NNPA Newswire Contributor) | 5/17/2017, 1:16 p.m.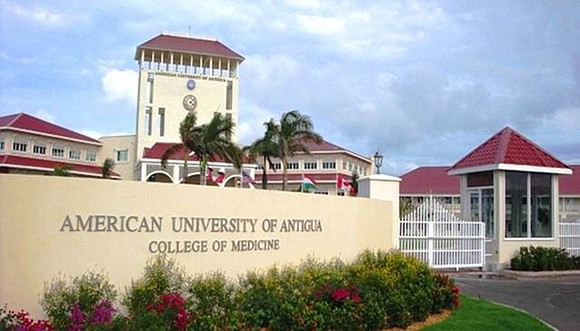 Dr. Kwaku Boakye has a goal to improve the overall health conditions in developing countries.
He and his brother, Kwabena Boakye, started a nonprofit called the Gold Coast Medical Foundation, in 2006, while they were in medical school.
For Dr. Boakye, medical school meant the American University of Antigua (AUA), located on the eastern part of that Caribbean island.
The school has prided itself on diversity, a frequent topic that Neal S. Simon, the university's president, said has always been talked about, but rarely addressed.
A 2015 NPR article titled, "There Were Fewer Black Men In Medical School In 2014 Than In 1978," said that, "While more Black men graduated from college over the past few decades, the number of Black men applying to medical school had dropped."
The article continued: "In 1978, 1,410 Black men applied to medical school and 542 ended up enrolling. In 2014, both those numbers were down—1,337 applied and 515 enrolled."
Every other minority group, the article said, including Asians, Hispanics and Black women, "saw growth in applicants," according to the Association of American Medical Colleges (AAMC).
Simon said that increasing diversity in their admissions process is one of their top goals.
"The American University of Antigua prides itself on the large group of nationalities on campus," said Simon.
According to Simon, the school boasts one of the most diverse student populations of any medical school, with a minority enrollment rate of more than 65 percent.
"While the number of male, African-American doctors dropping dramatically over the last few years, AUA has one of the highest Black student populations at 20 percent of the student body," he said.
Comparatively, just 6.8 percent of the students enrolled at U.S. medical schools are African-American, AAMC statistics show.
AUA has an enrollment of about 1,138. A total of 1,400 students have graduated from the school.
Further, AUA's acceptance rate is better than the overall rate of the 5.8 percent that all American medical schools combined had last year.
As of 2017, AUA has awarded 68 percent—$13.3 million—of all scholarship money to underrepresented minorities and enrolled students from Historically Black Colleges and Universities (HBCUs) including Bowie State, Fisk, Hampton, Tuskegee, and Prairie View A&M and the University of the District of Columbia.
The school also provides attractive scholarship packages for underrepresented communities, including a $25,000 scholarship for physicians of Indian descent and a $50,000 scholarship from the school's Physician Diversification Initiative.
"My experience at AUA was great. I enjoyed the diverse community, the friendly staff and, above all, the weather," said Dr. Boakye, who noted that his decision to attend AUA had been based on diversity.
"It was one of the few medical schools that was dedicated in providing a high-quality education for its students and, at the same time, granting opportunities to underrepresented minorities," said the doctor, who completed his residency in family medicine at The Wright Center for Graduate Medical Education in Scranton, Pennsylvania.
Simon said that because schools historically have relied on certain criteria in selecting students, African-Americans and other minorities have typically been frozen out.