Across Black America week of May 11, 2017
Carol Ozemhoya | OW Contributor | 5/11/2017, midnight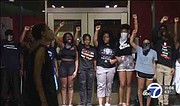 California
Students protesting what they believe is a "hostile climate" toward Blacks at the University of California Santa Cruz were locked inside an administrative building for three days until they scored a sweeping victory on May 4, reports KSBW 8 News. Members of the university's African/Black Student Alliance organization took over Kerr Hall on May 2, locked all of the doors, covered the windows with slogan-filled posters and vowed to not leave until their demands were met. "If the university fails us, there will be no business as usual, A/BSA told the university's newspaper. Chancellor George Blumenthal sat down at a negotiating table with 10 protesters at 4 p.m. May 4. Blumenthal declined to negotiate inside Kerr Hall because he had received threats and feared for his safety, protesters said. Instead, the meeting was moved to the biology building, and Blumenthal ultimately agreed to meet all four of the group's demands. The student's demands were mostly over the Rosa Parks African-themed house, as well as combating racism at the university through diversity training for all incoming students.
---
A former BET programming executive who was fired while on medical leave for breast cancer has filed a wrongful termination lawsuit against BET, accusing managers of fostering a hostile work environment that included retaliation, when she complained to human resources, reports Variety. Zola Mashariki, the former exec VP and head of original programming, maintains that she was subjected to harassment and discriminatory treatment at the hands of her supervisor, former BET programming president Stephen Hill. BET announced the departures of Hill, a 17-year network veteran, and Mashariki on March 29. Mashariki joined the cabler in May 2015 after 15 years as a creative executive with Fox Searchlight. In the lawsuit filed May 3 in Los Angeles federal court, Mashariki accused BET of "egregiously reckless and inhumane" treatment in her dismissal. She asserts in the complaint that she went on leave Feb. 6 for surgery related to her breast cancer diagnosis. She had been expected to return on Feb. 10 but her leave was extended by her doctors to April 11 after it was discovered that she had another form of breast cancer. Mashariki was based in Los Angeles, while Hill was in New York. The complaint paints a damning picture of Hill as a boss and said he routinely imposed unusual scrutiny on her actions, took credit for her work, excluded her from key meetings and even sought to insert himself on screen in BET productions. The complaint details HR's alleged lack of responsiveness to her complaints and retaliation that saw her performance reviews turn from glowing to unflattering. Mashariki also cites gender discrimination in alleging that she earned a lower salary than similarly situated male executives.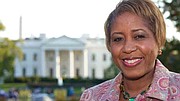 District of Columbia
The White House has fired its chief usher, the person responsible for managing the residence, staff and overseeing events, reports the Washington Post. No reason was given for Angella Reid's dismissal. Reid is Black. Two White House officials confirmed that Reid, hired in late 2011, had been let go. The officials requested anonymity because they were not authorized to discuss personnel matters publicly. Reid was the first woman and second African-American to hold the post. She oversaw daily operations at the 132-room mansion and its staff of more than 90 plumbers, electricians, butlers, cooks and others. The chief usher coordinates closely with the first family, and helps ensure things run smoothly at the Easter Egg Roll, state dinners and other events. Reid joined the White House from the Ritz-Carlton hotel chain.