Alzheimer's disease continues to baffle scientists in U.S. and around the world
Sixth leading cause of death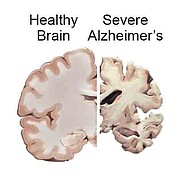 Alzheimer's disease continues to baffle neuroscientists around the world. This year, the disease was listed by the Alzheimer's Association (AA) as the sixth leading cause of death in the United States; just 20 years ago it was 13th. Experts generally agree that there is a lack of progress in determining a cause, providing individual treatment protocols and, eventually, finding a cure.
Alzheimer's Disease International reported last year that nearly 44 million people worldwide suffer from the disease. More alarming, it is estimated that only one in four people with the disease have been diagnosed. In the United States, one in nine Americans over age 65 have the disease, and it is predicted by the AA that when the first wave of baby boomers reach age 85 (roughly 2031) more than 3 million of these individuals will either show the symptoms or will have been fully diagnosed with the disease. More than 5.3 million Americans are living with Alzheimer's and unless a cure is found, another 16 million Americans will have the disease by 2050.
Diagnosis is often death sentence
The typical life expectancy for an Alzheimer's patient is 4 to 8 years after diagnosis. Last year, the population of patients 85 years and older included about 2 million people with the disease (or 40 percent of all people with Alzheimer's age 65 years and older). The disease tends to be more pronounced as you get older: 85 years and older (38 percent), 75 to 84 years (44 percent), 64 to 74 years (15 percent) and persons younger than 65 years at four percent.
The disease cuts across all racial and ethnic lines, but not with the same percentage. For instance, three percent of Whites between 65 and 74 years are diagnosed with the disease, increasing to 11 percent between the ages of 75 and 84 years, then 30.2 percent for ages 85 years and older. African Americans diagnosed, based on the same age groups, are 9.1 percent (65-74 years), 20 percent (75-84 years), and finally 58.6 percent (85 years and older). Latinos have a lower rate than African Americans for an early diagnosis at 7.5 percent (65-74 years), but these cases rise significantly to 27.9 percent (75-84 years) and then skyrocket to 70 percent for Latinos 85 years and older. These numbers indicate an ensuing epidemic of Alzheimer's cases. Seven years ago there were 4.7 million Americans 65 years and older who were diagnosed. According to the AA, expect that number to increase to 5.8 million in 36 months, then 8.4 million by 2030, 11.6 million by 2040 and up to 16 million by 2050.
Disease more pronounced in women
Women, based on the above age variants, either more frequently demonstrate the symptoms or are more likely than men to be diagnosed with Alzheimer's. To place these numbers into better perspective, a woman in her 60s is now about twice as likely to develop Alzheimer's as breast cancer within her lifetime. Researchers are racing to figure out why women are at an increased risk. Women generally live longer than men, but mounting evidence suggests that longevity may not account for the unequal disease burden women face. Some studies have suggested that distinct biological and genetic factors shape how the disease strikes and progresses in women. In 2015, Dr. Roberta Diaz Brinton, a neuroscientist with the University of Arizona Health Services, and her colleagues investigated whether the loss of estrogen in women in mid-life who carry a known risk gene for Alzheimer's (APOEe4), leads to more significant brain cell damage, specifically in the brain's white matter, compared to those who are not at this increased genetic risk. This so-called "mind gap" has led to a focus on white matter within the brain which acts as a "relay station" for communication between different areas of the brain. Brinton and her team suggested that these combined factors can increase a woman's susceptibility to Alzheimer's later in life.