Spotlight on "The First Lady of Motown"
5/4/2017, midnight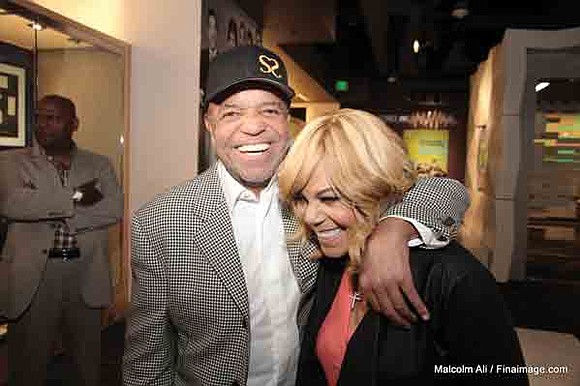 For New Orleans native Claudette Rogers, musical stardom was never an aspiration growing up. Non-the-less, she cultivated a love of singing as she was raised in a household steeped in the well-worn African American traditions of rock 'n roll, church music, and the blues. When she was eight, the family moved north to Detroit, Mich., the "Motor City." Like most Black families this transition was made in search of better opportunities, but for young Claudette, it opened the door to a fruitful professional (and personal) association with the trend setting Motown Record Company as well.
The youthful newcomer was immersed into a well-established pre-adolescent culture, devoted to an emerging genre of vocal harmony developing in African American neighborhoods along the eastern seaboard and the Midwest. "Doo-wop" was the preferred variety of singing teenagers engaged in during an era offering limited diversions, entertainment wise in post-war urban America.
By happenstance, the neighboring kids including her brother Emerson ("Sonny") and cousin Bobby Rogers, used her family's basement as a makeshift rehearsal hall. In this milieu she made the acquaintance of a youngster her age, who had a silky voice and a knack for penciling tunes on school notebooks, toilet paper, or what ever else was handy. His name was William "Smokey" Robinson.
Personally Claudette never craved the spotlight that came with being lead singer. She enjoyed harmonizing in the background, believing that establishing a cushion for the lead was more important and difficult to execute. Most of those in her clique viewed show biz as a pleasant recreational outlet, to possibly make a little money before moving on to "real life."
Motivated by a desire to serve his country, and grasp a steady lifestyle, Sonny (the lead singer) chose to enlist in the army around 1957 and his sister reluctantly stepped into his shoes as lead vocalist.
Sentimental crooning aside, what distinguished Claudette most was an innate curiosity and desire to explore the world, resulting in her decision to join the Marine reserve rifle team. Young Claudette was willing to take the plunge and become an active duty "Leatherneck," but her mother refused to sign the age waiver, and the would-be servicewoman took a different career path.
Claudette and Smokey, an item since junior high school, remained a committed couple through their adolescence, as their "hobby" progressed to the point where record labels were looking at them. Then came the faithful day in 1957, when their group, previously the "Matadors," but reincarnated as the "Miracles," secured an audition with established singer Jackie Wilson. Along with him was a group of music industry hangers on, among them a former record storeowner, featherweight boxer, and aspiring record producer named Berry Gordy. As Smokey sat at the piano doodling through a hundred or so of his tunes, Gordy gave him his first lesson in song writing: a song has to have a beginning, middle, and an end.
Their debut into the record charts was "Got a Job," an "answer" to the Billboard chart topping "Get a Job" by "The Silhouettes." Its royalty check of $3.19-split among the group-added to the novice hit maker's confidence for a lasting career. When Claudette and Smokey married in 1959, his "salary" of $5 weekly was upped to $10. Their next foray "Shop Around" topped the charts, eventually became a Grammy Hall of Fame selection, and a 1976 cover by the Captain and Tennille reached #4 on the Billboard Hot 100 charts. More importantly, it provided Motown its first million selling hit, and the Miracles became the corner stone for the entertainment empire that Berry Gordy crafted into "Hitsville, U.S.A."