Industry experts say minorities should pursue oil, energy jobs
Blacks, Latinos missing out on lucrative jobs in the oil industry
By Stacy M. Brown | NNPA Newswire Contributor | 5/4/2017, midnight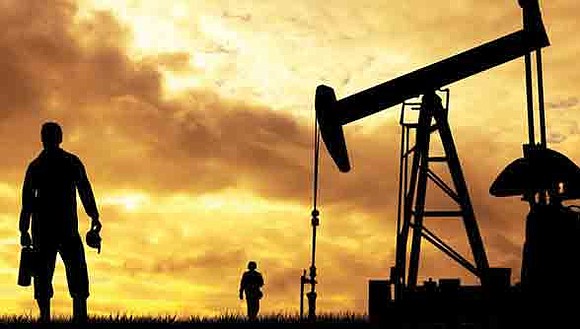 There are great opportunities for African Americans and Latinos in the oil, natural gas, and petrochemical industries, according to industry insiders, who are calling on minorities to "get in the game."
"IHS Markit projects that there will be nearly 1.9 million job opportunities over the next 20 years in our industry, and [minorities] are expected to fill more than 575,000 of those positions," said Deryck Spooner, the senior director of external mobilization at the American Petroleum Institute (API). "These employment projections are based on current and expected trends in factors such as labor force participation rates, population growth rates, and educational attainment rates."
IHS Markit is known as the leading source of information and insight into critical areas that shape today's business landscape.
Spooner noted that opportunities would be available in a wide variety of occupations across the country.
Of the 1.9 million new job opportunities, 57 percent are projected to be in blue-collar occupations and 32 percent are projected to be in management and professional fields, according to IHS Markit.
Martha Montoya, the chair of the National Association of Hispanic Publications, said that it's important for Black and Latino families to have conversations about opportunities in the oil industry that are available for people who aspire to join the middle class.
A recent report by IHS Markit noted that Hispanic- and African-American workers are projected to account for close to 25 percent of new hires in management, business and financial jobs through 2035.
Also, of the women projected to be hired in the oil industry, more than half are expected to fill management and professional occupations.
The salaries in the oil and gas industry make the jobs very attractive.
Currently, the average salary for a financial analyst in the industry is $55,620, while a petroleum engineer makes $82,000 annually. Oil and gas pipeline construction workers average about $76,000 per year and those who drill oil and gas wells typically rake in at least $98,000 per year, according to several databases.
"Experienced engineers are being offered sky-high salaries and are taking regular calls from headhunters as the booming shale gas industry fights for scarce talent, snapping up engineers from other sectors," reported Alanna Petroff of CNN Money. "There aren't enough experienced engineers to go around, and global demand for engineers is growing, especially as the U.S. shale gas industry balloons."
In order to take advantage of the oil and gas boom, Spooner said that minorities must get in the game.
"Our polling of African Americans and Latinos showed that the vast majority of individuals had never applied for a job in the industry, with 60 percent of those being driven by a basic lack of familiarity with the industry's opportunities," Spooner said.
As noted in the 2017 State of American Energy report, the API continues to work with Hispanics in Energy and the American Association of Blacks in Energy to spread the word about that 707,000 positions are projected to be held by African-American and Hispanic workers, said API spokesman Reid T. Porter.