Stepped-up deportation actions result in anxiety among the undocumented
DOJ, local law enforcement at odds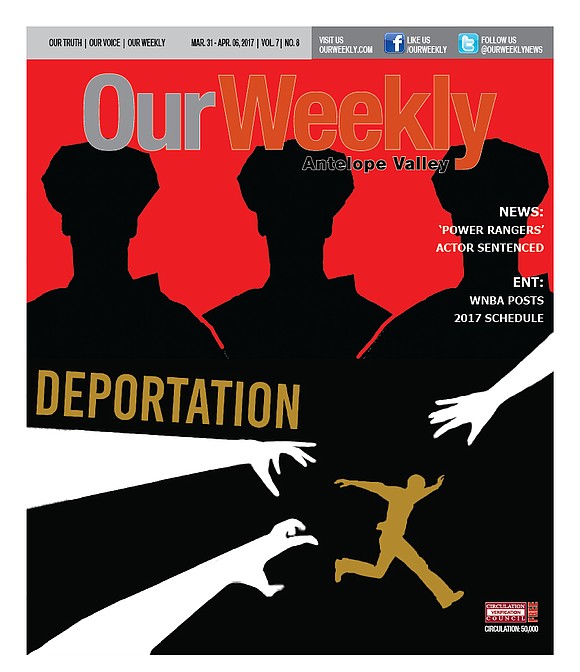 Most residents of Southern California strongly oppose President Donald Trump's immigration policies. This assessment from a recent survey conducted by the Public Policy Institute of California found that the travel ban on majority-Muslim countries, plans for building a wall along the U.S.-Mexico border, and the stepped up efforts by Immigrations and Customs Enforcement (ICE) of deportations have a majority of residents of Los Angeles, Orange and San Diego counties as well as the Inland Empire standing in opposition to the new federal directives.
"Today, a strong majority of Californians say that undocumented immigrants living in the U.S. should be allowed to stay and eventually apply for citizenship," the survey authors stated. After reviewing about 1,700 responses, the authors concluded that more than 70 percent of Los Angeles-area and Inland Empire adults, and 60 percent of Orange and San Diego county adults said that undocumented immigrants currently residing in the United States should be allowed to remain. Statewide, the number was 68 percent in favor of allowing immigrants already here to stay and to be eligible for a pathway to citizenship.
County residents favor pathway to citizenship
Additionally, about 12 percent of LA County and Inland Empire residents (15 percent in Orange and San Diego counties) responded that undocumented immigrants should be allowed to remain in the United States, but should not be granted citizenship. About three in four adults in the Southern California area oppose construction of a wall along America's southern border, and a considerable percentage of people (63 percent) disapprove of President Trump's revised executive order banning most people entering the U.S. from Iran, Libya, Somalia, Sudan, Somalia and Yemen. Political affiliation had an impact on the survey findings as majorities of both Republicans (56 percent) and Democrats (92 percent) agreed that undocumented immigrants should be allowed to remain in the United States.
California's elected officials have largely vowed to fight President Trump's revised immigration policies which have broadly focused on the deportation of undocumented immigrants who are not violent criminals but may have committed a misdemeanor, those who have sought public benefits or, in short, anyone whom immigration officials believe may pose a risk to public safety or national security. The ICE crackdown has reportedly forced an increasing number of the county's undocumented immigrant parents to take steps to ensure that someone will be there to care for their children in the event they are deported. A number of immigrant rights groups report that in the past two months, they have received requests from immigrant parents about ways to authorize a guardian for their children in the worst-case scenario.
Fear rises among immigrant children
"It's heartbreaking seeing so many parents' concerns about the plight of [their] children, if they're arrested or deported while going to work or taking their children to school," said Anabella Bastida executive director of the Council of Mexican Federations which is composed of state and hometown associations from Mexico. Bastida was referring to the unusual case of Romulo Avelica-Gonzalez, who earlier this month had dropped off his 13-year-old daughter at school in Highland Park and was pulled over by ICE agents with his wife and 12-year-old daughter remaining in the car. Avelica-Gonzalez is from Nayarit, Mexico, and has been in the United States for 25 years. In this case, officers wearing jackets emblazoned with "police" in large yellow letters on their backs stopped Avelica-Gonzalez and ordered him to exit the car. When he asked what he had done wrong, he was reportedly told to "be quiet ... you know you have a deportation order." Initially, immigration officials told him that he would be deported to Mexico immediately because of a DUI conviction in 2006.