Hollywood by Choice
Will 'Shots Fired' be Fox's next hit?
3/30/2017, midnight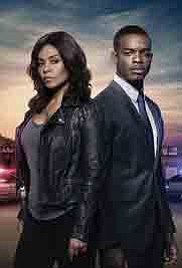 "Shots Fired" is destined to be the newest, big hit series that will air on Fox. Why? Because from the outset it is an intelligent production with an outstanding cast delivering scripted lines that America needs to hear. "Shots Fired" is delving into a troubling situation without fear or aggressive anger.

"Shots Fired" is the story of a small North Carolina town that does not want to become another "Ferguson" only this time the table has turned. A Black cop killed a White teenager who is a college student. To make it even "dicier," the White teen was killed in a Black neighborhood by a cop assuming his presence had something to do with drugs. In the end, he shot the teen four times. The governor, played by Oscar winner Helen Hunt, wanting to avoid protests that will undoubtedly lead to clashes in the streets, asked the Department of Justice for a special investigation team, preferably Black to handle the matter rather than the local police. The prevailing thought being, 'only a Black man could indict a Black cop without inciting tensions—if he's guilty.'
The Department of Justice sends special prosecutor Preston Terry (Stephan James; "Race" Jesse Owens story, "Selma"), a young man seemingly with an attitude who operates definitely by the book, and is very confident. This is ironically in sharp contrast to his assigned investigator, Ashe Akino (Sanaa Lathan; "Love and Basketball," "The Secret Life of Bees," "The Best Man") who plays by her own rules, calls it like she sees it, acts on her instincts, and has an anger problem.
The two are in a tricky situation. The Black cop who killed the White teenager is not only a rookie, but he is the only Black cop on the force. You immediately sense that the police force isn't exactly happy to see these outsiders taking over the case. Regardless of that fact the two hit the ground running. Investigator Akino doesn't like what she senses, whereas special prosecutor Terry has somewhat a "wait and see" attitude, but he recognizes there are some issues that have to be addressed. Like the fact they found out that a Black teenager was murdered and the police did not investigate the shooting. Now they have two murders on their hands.
From the beginning, viewers get a hint of the personal issues Sanaa Lathan and Stephen James' characters are also entangled with. Lathan's character is dealing with domestic issues that involve her young daughter, and Stephan James is dealing with family issues, and sibling rivalries. His older brother is a professional basketball player while, James gave up sports for a more secure career; the two always seem to clash physically when they are together.
"Shots Fired" stars some of Hollywood's best. Helen Hunt stars as the governor who does things her way. Richard Dreyfuss stars as a real estate developer Arlen Cox who is pushing his plan to build a for-profit prison in the area. And Aisha Hinds stars as activist Pastor Janae James who pastors a small church and wants to bring about peace, or are her moves politically motivated?