There goes the neighborhood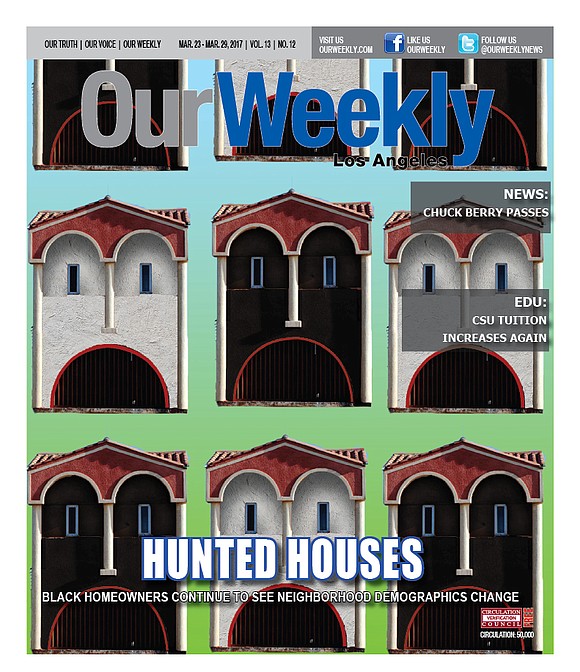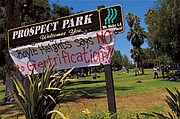 "… we know less about how people feel when the fortunes of their neighborhoods brighten. How do people feel when gentrification comes to the 'hood?"
—From "There Goes the 'Hood: Views of Gentrification from the Ground Up" by Lance Freeman, Temple University Press, 2005.
The colonies of Baldwin Hills, Ladera Heights, and View Park-Windsor Hills comprise one of the most affluent Black residential areas in the United States.
Baldwin Hills specifically has been dubbed "the Black Beverly Hills" (a title it shares with View Park) given by the African American Digest, Atlanta Black Star and other news organs serving Black audiences, as well as spawning an eponymous reality show on Black Entertainment Television.
Restrictive real estate covenants (contracts that restrict what a purchaser may or may not do with land and the buildings on it) prohibited minorities from buying in these desirable areas well into the mid 20th century. Those who sold homes to Blacks might find themselves sued for damages by their neighbors, who used the rationale that such a transaction would erode their property values. The efforts of Black civic leaders set in motion the wheels of change to right this inequity. During the 1940s and 1950s landmark legislation passed which paved the way for African Americans to gain entry into previously restricted housing areas.
One of the beneficiaries of these changing fortunes was a Portland, Ore., native who we'll call "Em," (she chooses to remain anonymous. Upward mobility in the Golden State allowed her family to establish a comfortable life living in an area that was outside the traditional Black areas. They lived through the 1950s east of Central Avenue, then in the West Adams District ("Sugar Hill"), and finally in Leimert Park.
By 1959, the need for a larger home prompted Em's family to purchase a house in the previously all-White View Park neighborhood, for the princely sum of $19,000.
The house they purchased had previously been located in a palatial enclave of winding streets with expansive lawns and showcase homes in a variety of architectural styles. Kenway Avenue in particular boasted a plethora of White doctors, lawyers, and car dealership owners (including mega pitchman and pop culture icon Cal Worthington). Aside from a welcoming ritual of vandals toilet papering their dwelling, and one neighbor, she surmised who moved south to the more homogenous milieu of La Mirada to avoid the effect this integrated environment might have on their teenaged daughters, Em experienced few problems.
When Blacks began to move in, she and other strivers of color were able to rear their children into adulthood in their own sepia-tinted version of the American Dream. The areas these fortunate folks settled into are of historic importance, because 1) the homes within the neighborhoods were architecturally significant; 2) at any given time, they were the domain of celebrities like Ray Charles, Tina Turner; and Nancy Wilson; and 3) they are a testament to the post World War II rise of the Black middle and upper class, and a symbol of African American success.