'Kill 'Em And Leave' provides inside glimpse of the Godfather of Soul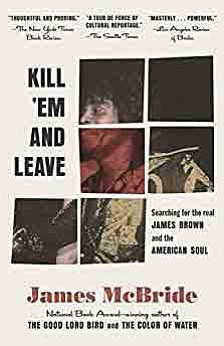 James Brown practically squeals and shrieks throughout every page of the book. The music is not lost within McBride's painstaking research as he takes you to concerts around the world where audiences were always left begging for more. The peak inside at trombonist Fred Wesley and saxophonist Pee Wee Ellis provides the reader with a unique understanding of why Brown's band between 1965-1969 was arguably the greatest assemblage of musicians of its generation. Brown had plenty of professional competition, and established himself as a "one-man gang" against the Motown, Stax and Philadelphia International hit-producing machines. Ellis, for instance, was the driving force behind one of Brown's most popular (and controversial) hits "(Say It Loud) I'm Black and I'm Proud" when shortly after the assassination of Martin Luther King Jr. he penned the lyrics and along with manager Charles Bobbit gathered a group of kids from Watts for a 3 a.m. recording session to sing background on the certified anthem of the Black Power movement. Brown and Ellis also innovated the "one-and-three" musical beat (emphasis on the first and third beats of each bar) that revolutionized funk music.
Bobbit was among the handful of people of whom Brown would confide in. He sat at Brown's hospital bed, watching him take his last breath. "Mr. Brown didn't want anyone to know him," he tells McBride, because of fear. Precisely, fear of the "White man" who owned the entertainment business, the media, financial institutions ... the government. Brown's insecurities and poor decisions over the years saw a titan of the music industry become a recluse after squandering a fortune not only in money, but in lovers and friendships. One woman who remained at Brown's side until the end was "Sis," the wife of Brown's first musical partner, Leon Austin of the Famous Flames. She said Brown was lonely during his last years, was in pain daily (bad feet, knees, teeth), and he would frequently call her to talk about the old days, often inquiring about what she was cooking (her vegetable soup was his favorite).
The mythical status of James Brown is brought to fore in McBride's book. The reader can almost hear the audience screaming his name. "Kill 'Em and Leave" is recommended reading for not only those who grew up during the heyday of James Brown, but for lovers of iconic entertainers who placed a premium on innovation and excellence in their craft.