'Kill 'Em And Leave' provides inside glimpse of the Godfather of Soul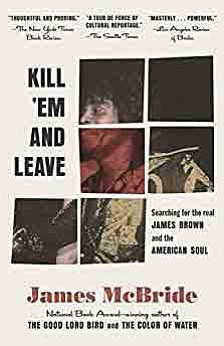 The intriguing life of James Brown is best explained in just two words from the forward of James McBride's riveting work "Kill 'Em And Leave" (Spiegel & Grau, New York, NY, 2016) in which the author is warned "watch yourself" when undertaking the writing of the southern history of one of America's most famous entertainers. McBride ventured into Barnwell, S.C.—Brown's birthplace—a little country town where Blacks and Whites still maintain an uneasy racial paradigm and where the inquisitive person can find himself in more trouble than it's worth.
While McBride's book can go from describing Brown as the "most misunderstood Black in 300 years of the United States," to a man heralding the "moral highground" of African American life, there is no doubt that the author set about to "find" Brown and the personification of his legend in every station of his fantastic voyage. And he did. Tracing Brown's childhood in the Jim Crow South to his soaring adventures around the world is delightful reading for diehard devotees of "Soul Brother Number One." But you also see the heartache and pain Brown brought upon himself and those around him. No one was particularly close to James Brown because he wouldn't allow it. He wouldn't allow himself to show weakness, vulnerability or heartache.
McBride explains that James Brown ("Mr. Brown" to all associates) felt that White America defined reality for Black people. Because he came from the lowest rung of society, never finished school nor had a good eye for business, Brown felt like an outsider among the White record executives, lawyers, accountants, concert promoters, etc. whom he had to trust with his future. He didn't trust them with his money. Brown apparently never placed a cent into a financial institution, yet he died with a $100 million trust established to help poor children in South Carolina and Georgia receive a good education (eventually whittled down to less than $2 million by ex-wives, business associates and long-lost relatives each of whom had "lawyered up" after his death).
McBride tried to look into every nook and cranny of Brown's life and found a study of contradictions. There was always a heavy load of anxiety surrounding Brown's rise to fame beginning with the 1956 smash "Please Please Please." Many of his former bandmates from the Famous Flames had passed away, when McBride set out on his trek. He did find a few such as guitarist Nafloyd Scott, who confided that the early adversity of one-nighters on the Chitlin Circuit only made Brown a stronger individual. While bandmembers were regularly fined and sometimes fired for being late, missing a note—or for un-shined shoes or lack of a crisp crease in their trousers—Scott said Brown was a generous man who over the years had donated millions to the less fortunate...but could be a "son of a bitch" when it came to compensating his musicians. "Cheap," "mean" and "cruel" were the operative words in describing how most of Brown's musicians thought of him.
You'll get the inside scoop of how a young New York preacher, Al Sharpton, became one of Brown's most loyal assistants. Sharpton was only 17 when he met Brown and soon was flying off to far parts of the globe after being asked one day: "What do you want to be, son?" Brown took Sharpton under his wing and mentored him, even giving him the nickname "Rev" in counseling him after his concert in Zaire prior to the 1974 "Rumble In the Jungle" between Muhammad Ali and George Foreman: "Don't be common, Rev. When you kill 'em, you leave." Sharpton served as a loyal aid to Brown for 35 years.