'Everytable' provides tasty, low-cost cuisine at the Baldwin Hills mall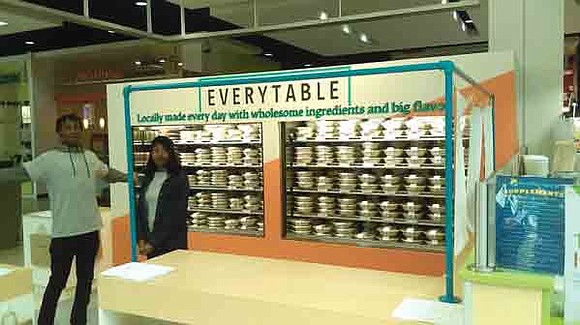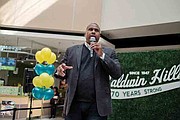 Sam Polk is a problem solver. When he could no longer sit back and watch Black and Latino neighborhoods across Los Angeles go without the benefit of having ready access to healthy food, Polk and his business partner David Foster pooled their resources and opened Everytable in downtown LA, a counter-service restaurant dedicated to providing its customers with nutritious and delicious food at a low cost. If you have several mouths to feed, phone Everytable's catering service (the landline varies depending on location).
It seems cynical to say, but two White guys peddling pre-packaged meals to financially-impaired residents of the inner-city has all the makings of a corny, self-important Lifetime movie. Never-the-less, Polk's endeavor may be just what the doctor ordered to counteract South LA's notorious landscape of burger joints, taco stands and liquor stores populating almost every street corner.
Polk, who in his spare time moonlights as a health and wellness advocate, recently spoke to a crowd of patrons at the Baldwin Hills Crenshaw Plaza, where he and a team of his employees celebrated the grand opening of his newest Everytable location in early March. To kick things off, Polk spent roughly an hour glad-handing members of the community as they waited—in a line that wrapped around the entire food court—to receive a complementary sample of Everytable's signature dish, Jamaican jerk chicken (smothered in coconut rice, beans, kale, carrots and plantains). This ode to Caribbean cuisine is less expensive than you'd think. At $5.50, it ranks as one of the highest priced items on the menu, though it costs less than a burger and fries at McDonald's or Carl's Jr.
Everytable's wide-ranging spectrum of culinary offerings also includes Cajun Blackened Fish ($5.50), Yucatan Chili ($3.95), consisting of chickpeas, kidney beans, black-eyed peas, red bell pepper and baked tortilla chips, and if you're partial to seafood, mixed-vegetables, or a merging of both, then you might consider exposing your taste buds to a helping of Everytable's Salmon Japchae salad ($6.95), which features a blend of sweet potato noodles, kale, cabbage, pineapple, corn, cucumber, pickled ginger, and a zesty Gochujang Vinaigrette.

The menu is rounded out with a number of salads and culturally-inspired dishes, along with a few simple options for kids (spaghetti and meatballs, chicken nuggets, cheese pizza). However, if your interest in dessert is multi-faceted, then you might consider bypassing Everytable's paltry selection of Chocolate Banana Pudding and Spicy Fruit Salad (both $2.50) for a more extensive offering.
In 2013, Polk launched a nonprofit called Groceryships to address the dearth of wholesome food-options in South LA, where the average income is $13,000 a year, according to a recent census report. Through his organization, Polk began helping families make better dietary choices by providing them with nutrition education, cooking classes and free produce. The following year, a chance encounter at one of Polk's seminars spawned a business relationship between he and David Foster, who joined Groceryships full-time as a public outreach rep. Their partnership blossomed, but eventually the rigor of executing a two-man operation drained them of time, energy and capital. To avert these issues, the pair co-conceived Everytable and they've steadily grown since then.