A Better Easter Brunch
Focus on quality ingredients for a simply delicious meal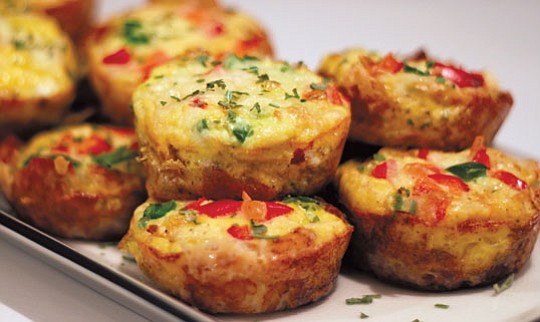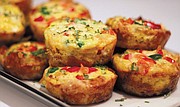 Spicy Tater Tot Breakfast Muffins
Recipe courtesy of Chef George Duran
Servings: 12
Nonstick cooking spray
36 frozen tater tots
2 cups grated Jarlsberg Cheese, divided
8 large eggs
2 jalapeno peppers, seeds and veins removed and finely chopped
1/2 red pepper, finely chopped
2 tablespoons heavy cream
1/2 teaspoon salt
1/8 teaspoon ground pepper
finely chopped parsley, for garnish
Heat oven to 425 F. Spray 12-cup muffin tin with nonstick spray.
Place three tater tots into each muffin cup and bake 10 minutes. Remove from oven and use small spoon or fork to gently press down on tater tots to form base and sides of each muffin.
Sprinkle 2 cups Jarlsberg cheese equally over tater tots and bake 10 minutes.
Beat eggs in large bowl and add jalapeno, red pepper, heavy cream, salt and pepper.
Remove tater tots from oven and pour egg mixture into cups. Top evenly with remaining grated cheese and bake 10 minutes.
Remove each muffin and allow to cool 5 minutes on cooling rack before garnishing with parsley and serving.
Tip: For a non-spicy alternative, replace jalapeno with same amount of green bell peppers.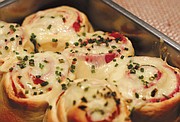 Brown Sugar Ham and Cheese Sticky Buns
Recipe courtesy of Chef George Duran
Servings: 12
Nonstick cooking spray
2 tubes (8 ounces each) refrigerated crescent roll dough
flour, for dusting
4 tablespoons brown sugar, divided
12 slices thin-cut ham
12 slices Jarlsberg Cheese
1/2 cup grated Jarlsberg Cheese
chives or green onions, for garnish
Heat oven to 375 F. Spray nonstick spray in 8-by-8-inch pan or similar.
Unroll dough on floured surface and gently stretch until dough is about 8 by 12 inches. Sprinkle 2 tablespoons brown sugar over dough then evenly space six slices of ham and six slices of cheese on top. Starting on short side, begin rolling dough jelly roll style. Cut into six pieces. Repeat with second piece of dough.
Place all 12 buns inside pan. Sprinkle grated cheese on top. Bake 20-25 minutes until buns are fully cooked and browned. Garnish with chives or green onions and serve.