A Better Easter Brunch
Focus on quality ingredients for a simply delicious meal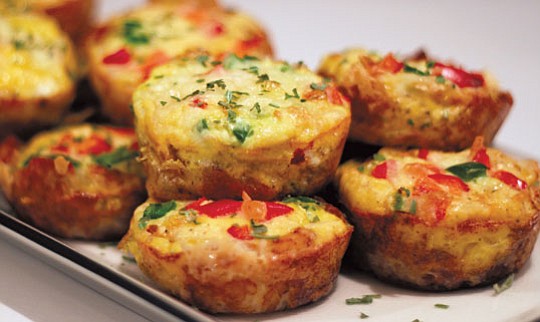 Hosting an elegant Easter brunch is easy when you build a menu around exceptional ingredients. Your dishes don't have to be overly complicated; simple dishes are perfect for the occasion when you let stand-out flavors steal the show.
Brunch calls for a combination of light and savory fare, and an ingredient like Jarlsberg Brand Cheese lets you go either way. Best known for its classic wedge, this nutty, mild cheese is also available sliced and shredded - perfect for adding a distinctive taste to nearly any indulgent dish you can imagine.
Quiche is a brunch staple, and no variation of this classic is complete without cheese - in this case, a rich, creamy layering of Jarlsberg's unmistakable flavor does the trick.
For a lighter bite, try these Cheesy, Crispy Smashed Potatoes from Chef George Duran, host of TLC's "Ultimate Cake Off" and Food Network's "Ham on the Street." You could go a more decadent route with Duran's Brown Sugar Ham and Cheese Sticky Buns, or even appeal to kids of all ages with his Spicy Tater Tot Breakfast Muffins.
Explore more recipes for a simply elegant Easter brunch at jarlsberg.com.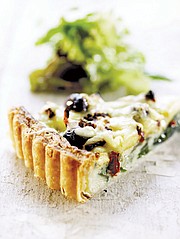 Spinach and Sundried Tomato Quiche
Recipe courtesy of Jarlsberg Cheese
Servings: 6
Pie Dough:
3/4 cup butter
1 cup white flour
2 tablespoons water
Filling:
1 cup fresh spinach
1 red onion, cut into rings
butter
1 cup milk
4 eggs
salt, to taste
pepper, to taste
1/2 cup sundried tomatoes, sliced
1/4 cup olives
1 cup shredded Jarlsberg Cheese
To make pie dough: Heat oven to 400 F.
Mix butter and flour in food processor or by hand until mixture has granular consistency. Add water and knead into dough. Let chill 30 minutes. Roll dough and fit into 10-inch pie pan. With fork, make holes in dough and bake 15 minutes.
To make filling: Heat oven to 350 F.
In frying pan, fry onion and spinach with butter then scoop mixture into quiche base. Whisk together eggs, milk, salt and pepper, and pour over spinach and onion. Top with olives, sundried tomatoes and cheese.
Bake 35-40 minutes.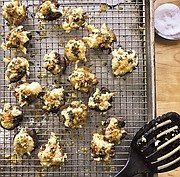 Cheesy, Crispy Smashed Potatoes
Recipe courtesy of Chef George Duran
Servings: 4
25 red bliss or fingerling potatoes, bite-size
4 tablespoons olive oil
4 garlic cloves, finely minced
salt, to taste
pepper, to taste
1 cup grated Jarlsberg Cheese
2 tablespoons minced parsley
Heat oven to 450 F and cook potatoes by steaming, boiling or microwaving. Set aside.
In small saute pan or saucepan, add olive oil and garlic. Cook on medium-low heat until garlic browns and turns crispy, about 5 minutes. Strain garlic, reserving olive oil and crispy garlic.
Once potatoes cool, use back of pan to gently smash them down to about 1/2-inch thickness. Drizzle olive oil throughout roasting pan then add smashed potatoes. Drizzle reserved garlic olive oil on top of each potato and season with salt and pepper. Roast 20 minutes.
Remove from oven and evenly divide cheese and parsley on top of each potato. Cook another 10 minutes until cheese begins to brown. Top each potato with reserved crispy garlic and allow to cool before serving.