Across Black America week of March 9, 2017
Carol Ozemhoya | OW Contributor | 3/9/2017, midnight
Arizona
The Metropolitan Sun Chapter of the National Council of Negro Women (NCNW) celebrated its tenth year of existence in Maricopa County and the state of Arizona. The public was invited to join NCNW on Saturday, March 4, at the Pyle Adult Community Recreation Center in Tempe to celebrate the anniversary and African American History Awareness Month. The group honored several Black business owners, including Elizabeth White and Carolyn Lowry. "Black women from the days of Sojourner Truth, Harriett Tubman, Ida B. Wells-Barnett, all the way up to Rosa Parks and Shirley Chisholm, and beyond, have made a difference," said NCNW President Kath Kennard. "Our organization was founded to celebrate women, sisterhood, the community and families. We are committed to continuing the work of our founder Mary McCloud Bethune, and later Dr. Dorothy Height and so many others that have cared enough about the community to try to make a difference."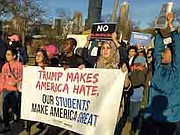 California
Ten people were arrested after President Donald Trump supporters and counter-protesters clashed during a downtown Berkeley rally that turned violent and left seven people injured, reports the Assocated Press. Berkeley police said five people were arrested on Saturday for battery, four for assault with a deadly weapon and one for resisting arrest. It said officers confiscated a dagger, metal pipes, bats, pieces of lumber and bricks. None of the injured required hospital treatment. Supporters of president Donald Trump clashed with counter-protesters in the famously left-leaning city of Berkeley, in what appeared to be the only episode of violence around several pro-Trump events across the country. Protesters from both sides struck their opponents over the head with wooden sticks. Trump supporters fired pepper spray at counter-protesters as police in riot gear stood at a distance.
Florida
The African American Golfers Hall of Fame, the first in the country, will soon be built in Riviera Beach, reports CBS News. Maurice Wright is a married father of two, and has been playing golf for more than 17 years. Hearing the news of an African American golf museum being built in his own backyard makes him ecstatic. "It's a great organization. I would love to be part of it because I'm in the game. I work on the golf course. When I hear about golf, I get the itch," Wright said. The Riviera Beach City Council approved the contract to build an Inner City Golf Learning Center and an African American Golfers Hall of Fame Museum. It will be located along West 13th Street, with the building itself taking up approximately 3,000 square feet. The site will also encase a short game area with a putting green and sand trap. The total cost of the project will run from $300,000 to $500,000. "I think it's great for African American kids to get them off the streets," Wright added. Organizers say they will be setting up a fundraiser within the next week and hope to break ground by the end of May.
Georgia
An all-Black orchestra based in Atlanta will be performing at Center Stage in Atlanta on March 31. The group has already gained some notoriety, when it was featured in a new video from rappers 2 Chainz and Migos. According to Black News, the group is called Orchestra Noir. "It is with great pride that I announce our new concert will be held in our new home, Center Stage Atlanta," music director Jason Ikeem Rodgers said. Rodgers, who holds two master's degrees in orchestral conducting and has conducted all over the world, founded Orchestra Noir out of a desire to bring the world of orchestra to Atlanta's African-American community. And the community has embraced the orchestra, with more than 700 guests in attendance at its last event. Founded in 2016, Orchestra Noir acts as a living testament to the African American legacy of excellence and resilience in Atlanta and the nation. Its mission is to showcase and celebrate the Black community's rich cultural achievements in music through concert events in Atlanta.