Night Riders
Multicultural group of BMX bikers rove the streets of Downtown LA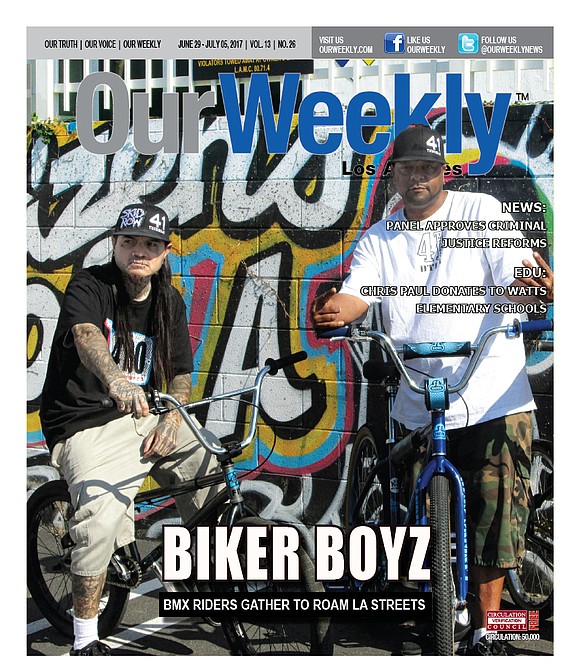 "Sounds interesting. I heard you mention a ride on Thursday. Can I check it out?"
"Sure. Take my number. We meet in the Arts District at 8 p.m."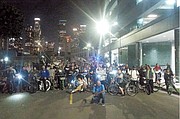 On the day of the ride, C-Weed reached into the flatbed of his uncle's truck and pulled out a bright-red Schwinn mountain bike.
"This is for you."
I smiled, suddenly feeling like a kid again.

"Wow. Looks fast."

"Yup. Holler if you need me to adjust the seat. Let's roll"
By my count, I could've easily been flattened by a speeding car at least 10 times during our ride to meet the others. It felt like a bad omen—the night was still young and I had already cheated death more than once.

When we arrived, there were dozens of middle-aged men gathered in a parking lot on the corner of 4th and Alameda Street (Downtown LA). As time progressed, the group expanded to roughly 200 people, including women, children and whole families.
They came in all shapes, sizes and colors; they spoke different languages; and they represented various social and economic backgrounds. But apart from these differences, they assemble every Thursday to share in a childhood pastime.

When rush hour subsides, and the streets have calmed, these night riders emerge with their own personalized BMX bicycles.
They ride for miles – exploring every crevice of the city, blocking lanes and intersections, speeding through red lights and stops signs, delaying traffic, whistling to pretty girls, and waving to curious bystanders. It's a frat party on wheels—and for nearly five hours, the "41 Thursday" crew travels in a tight formation like geese flying south for the winter.

"We wanna think young and stay young by riding bikes," explained Mr. Cheech, 46, the group's founding member and route designer.
Whenever asked, he declines to provide his birth name; but the other riders told me that he adopted the alias "Cheech" several years ago.
Apart from his role with the group, Cheech spends the bulk of his time restoring antique cars for private clients. His quiet disposition contrasts with the numerous piercings and tattoos covering his body. Still, although he's not particularly vocal, Cheech has earned the respect and admiration of his BMX comrades.
"We've been doing this [bike-riding] for seven years now. It gives us all a chance to forget about reality for a little while. It's therapy for me, and I'm sure everyone else here feels the same way."
Only a handful of the riders actually live in Los Angeles.
Many come from surrounding cities like Corona, Long Beach, Buena Park, Canoga Park, Downey, Paramount, and Inglewood.
Jesse Medina, 43, gasses up his SUV on Thursdays and drives a full-hour from his home in Acton.
"I've been doing it for a year now. It's fun to meet up with these guys and take my bike out for a spin. You've probably been hearing this all night, but every time I ride, it makes me feel young. That's my childhood in a nutshell—I'd meet up with everybody in the neighborhood and cruise the streets. I'm a lot older now, but it feels the same."