Night Riders
Multicultural group of BMX bikers rove the streets of Downtown LA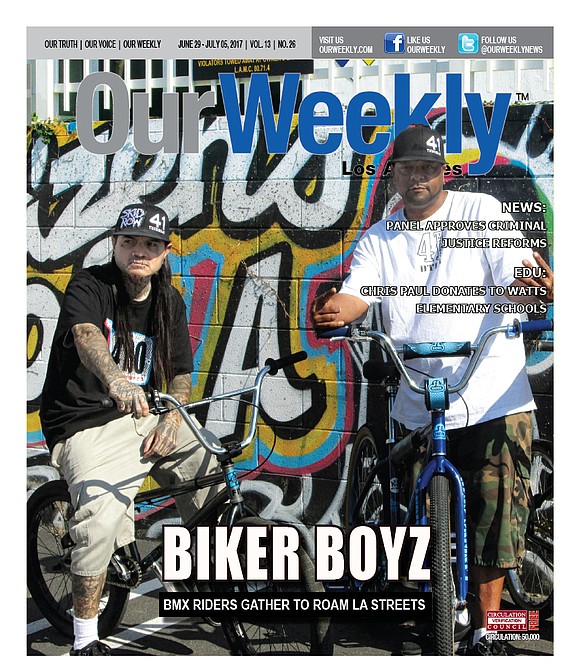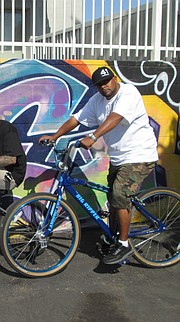 The sharp vibration of my cell phone snapped me awake at 3 a.m. It was Thursday morning, and I was annoyed.
"Hello," I answered groggily.

"Hey, man. Did I wake you up?"
"Absolutely."
"Sorry bout that. It's me, C-Weed."
"Yeah, I recognize your voice. What's up, bro?"
"I was just wondering – do you have a bike?"
"Not since I was 10-years-old. Don't ride much these days."
"No problem. I'll have an extra one for you, when we meet up later. I want you to ride with us."
"Ride with you?"
"Yeah. Asking questions won't be enough. I want you to get the full experience. You can't write about something you've never done, right?"
"Uh ... yeah, right. I guess. Thanks."
"No problem. Sorry again about waking you up. Get some rest. Modello Mike says we're doing 20 miles this time."
"20 miles! And who's Modello M—... forget it. Cool man. I'll be ready."
My first encounter with C-Weed began on the Metro Gold Line train to Santa Monica, one of SoCal's marquee beach cities. It was a cramped space—filled with pedestrians dressed in flip flops, tank-tops and beach shorts. Strollers carrying small children blocked exits and walkways. There was barely any room to stand. It was as if we boarded the only train to safety after a natural disaster.
Nevertheless, C-Weed managed to create enough space for himself and his custom-made PK Ripper beachcrusier. At 6'3, 260 pounds, he dwarfed just about every passenger on board; but his eyes registered a calmness that contrasted with his imposing frame. I could tell he was a gentle giant.
"Hey," someone called to him from the opposite end of the train. "What kind of bike you got?"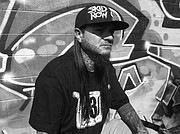 "Ah man, this is one of my babies. The best of my collection. It's a PK Ripper, but I've had some adjustments made to it. This thing can fly."
"Yeah, I got one of those too. I like the color on yours. You ride with a crew?"
"Yup, we're meeting at Venice Beach today. There's probably gonna be a hundred of us or more. We do it every Saturday."
"Word? I used to roll with a crew like that. I only ride with a few of my homeboys now."
"You getting off at the last stop [3rd St. Santa Monica Station]?"
"Yup."
"Cool. I'll give you my number so we can link up. We do this crazy ride on Thursday. You should roll through."
When the train reached its final stop, I made a beeline for C-Weed and his new riding buddy.
"Hey, guys. I overheard you speaking," my voice cracked. "Don't take this the wrong way, but is cycling a common thing in the hood?"
"No, cycling isn't," C-Weed answered matter-of-factly. "That's some middle America sh*t for White boys who wear spandex. We ride BMX."
"Well, how common is that?"
"Very."
"So, there's a bike culture in the Black community?"
"I ain't saying all that. But I know plenty of nias who ride BMX like we do [pointing to himself and the other rider]. Hispanics too. I ride in groups of Black people, Asians, White boys, and Mexicans. We're very serious about it."