Summer nutrition programs strive to keep kids healthy and engaged
Local facilities will serve free meals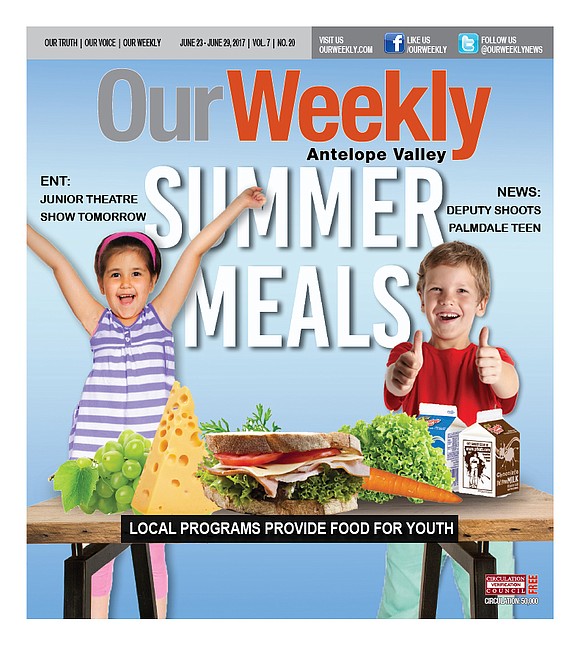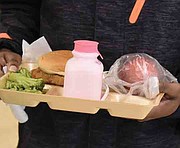 Access to healthy food through summer nutrition programs is of increasing importance in improving a child's daily nutrition and maintaining proper food security. The Palmdale School District is working to address the ongoing challenge of providing healthy meals to students who qualify for lunch programs during the school year, but are left with no good nutritional options during the summer break. A free summer lunch program is offered daily through July 28 for local youth 18 years and under at the following times and locations:
—11 a.m. to noon at McAdam Park, 38115 30th St. East;
—11:15 a.m. to 12:15 p.m. at Palmdale Moose Lodge No. 507, 3101 East Ave. Q;
— 11:30 a.m. to 12:30 p.m. at Courson Park, 38226 10th St. East;
—11:30 a.m. to 12:30 p.m. at Joshua Hills Park, 3030 Fairfield Ave.;
—11:45 a.m. to 12:45 p.m. at Christ Church of the Valley, 2714 Ave. R;
—11:45 a.m. to 12:45 p.m. at Desert Sands Park, 39117 3rd St. East;
—noon to 1 p.m. at Buena Vista School, 37005 Hillcrest Dr.;
—12:15 p.m. to 1:15 p.m. at Domenic Massasri Park, 37716 55th St. East.
Hunger doesn't take a vacation
Summer lunch programs are more crucial now than ever. Many children attending school utilize lunch programs because of limited household finances. Often, many of these families are on government aid and don't have the extra money to prepare a nutritious lunch for their children. During the school year, this difficulty is alleviated somewhat because federal programs are mandated to provide a healthy meal to school children, one that meets the nutritional guidelines established by the United States Department of Agriculture (USDA). But once summer vacation begins, hundreds of thousands of children nationwide go without a healthy and balanced mid-day meal.
While the summer break is something that all kids look forward to, unfortunately hunger doesn't take a vacation. The USDA reports that more than 21 million American children and teens depend on free or reduced-price school meals during the school year, and when school cafeterias close, many youngsters lose their most important source of balanced nutrition and are at risk of going hungry. Summer meals programs can help to fill this gap as they serve as an important source of nutritious food for children and youth during the long summer break. Summer nutrition helps prepare children to go into the next school year energized and ready to learn. In addition, many of the meal sites offer recreation and enrichment programs, therefore children are not only well-fed, but have the opportunity to take part in activities that will keep them active and healthy when school is out of session.
Increase in 'food insecurity'
Two years ago, the USDA conducted a study with the Summer Electronic Benefit Transfer for Children (SEBTC) program (similar to Women With Infant children or "WIC") to study the growing trend of food insecurity among families with children. The study provided families with eligible children a monthly benefit of $60 for them to use toward food during the summer months using the existing electronic benefit transfer (EBT) systems. The approach was successful because it reduced the prevalence of very low food security among children (who would have otherwise received no nutritious lunch during the summer) by about one third of participants. The demonstration found that children in households with SEBTC ate more fruits and vegetables, whole grains and dairy products.