Across Black America week of June 22, 2017.
Carol Ozemhoya | OW Contributor | 6/22/2017, midnight
California
The parent of a Black student at Monta Vista High School filed a lawsuit against the Fremont Union High School District, alleging the district failed to take proper disciplinary action against several students who created a "kill list" targeting Black students, including her own child, reports the San Jose Mercury News. An attorney for the family said administrators failed to disclose the list to Black students or to law enforcement authorities, when the social media posts first surfaced in September, contends the lawsuit. Filed in Santa Clara Superior Court, the suit also claims the district violated federal and state civil rights claims as well as state education codes by failing to prevent discrimination against Black students and failing to enforce anti-bullying policies. "The students themselves had no idea that their lives were being threatened," said community activist Walter Wilson during a press conference last week in San Jose. "The parents had no idea they were sending their kids to school in what they thought was a safe environment, which clearly it was not or may not have been." The alleged "kill list," which was created by six to 10 non-Black students and shared on Instagram and Snapchat, according to activists and the teen's attorney, included intentions to "shoot and kill all Black students at the high school." It referred to Black students with a racial slur and also included misogynistic comments toward female students. District and sheriff's officials did not say whether the offensive list appeared to be a legitimate threat to harm students or an inappropriate attempt at humor.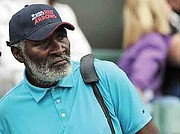 Florida
Richard Williams, the 75-year-old father of tennis champs Serena and Venus Williams, has filed for divorce from his much younger wife in West Palm Beach, reports American Urban Radio. In his petition, the tennis coach, who is often credited for training his daughters in their younger years and laying the foundations that eventually made them into tennis superstars, believes his 38-year-old wife of seven years, Lakeisha Williams, is an alcoholic. He also claims she is stealing his social security checks and transferred ownership of their cars and a house to herself by forging his signature. Williams, who married Lakeisha in 2010, also claims she moved out last year and left their now 5-year-old son, Dylan, in his exclusive care. Lakeisha is barely older than his two daughters—Serena is 35 and Venus just turned 37. Richard Williams also alleges she left him for "a new person' who has "serious criminal felony charges pending who could impose a danger to the minor child," the document reads. When reached on her cellphone, Lakeisha told the network she couldn't talk and hung up. Earlier this week, Williams was inducted into the American Tennis Association Hall of Fame.
Georgia
Atlanta-based Patientory, the company behind an advanced healthcare app, has raised $7.2 million in a online crowd funding campaign, according to BlackNews.com. The tech startup, founded by CEO and Black entrepreneur 27-year-old Chrissa McFarlane, enables connecting digital medical records. McFarlane was able to raise the funding in just about three days by launching a campaign on Kickstarter. McFarlane drew 1,728 investors. She saw a real need for an application that would store private medical data in a secure area where it could not be hacked. The app can also store a patient's entire health history and determine who can have access to it. McFarlane said that the app uses what is called block chain technology where patient information is coordinated through a health information exchange program. Patientory encrypts medical patients distributed in an un-hackable environment. McFarlane's new company offers a unique solution to connecting digital medical records without compromising privacy, one of the biggest issues in healthcare today. According to Huffington Post, Patientory is one of the leading users of block chain in healthcare.