First Decline Seen in 'Vaping' Among U.S. Teens: CDC
Drop fueled a decrease in use of all tobacco products, report finds
HealthDay News | 6/19/2017, 12:03 p.m.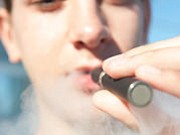 For the first time since the U.S. government began tracking e-cigarette use among American youth, a new report shows fewer teens are vaping.
The drop was significant, falling from 3 million in 2015 to 2.2 million in 2016, according to the U.S. Centers for Disease Control and Prevention.
And that trend largely fueled a decrease in overall tobacco use by high school and middle school students, health officials added. In 2015, 4.7 million teens used tobacco products, but that number dropped to 3.9 million in 2016.
However, that means nearly 4 million middle and high school students are still using tobacco products, the CDC researchers said.
"We have some good news, and we have some bad news," said Brian King, deputy director of research translation in CDC's Office on Smoking and Health. "The good news is that the use of any tobacco product has declined in 2015 to 2016. This is a good thing, it's a public health win.
"However, on balance the bad news is that we've still got 4 million teenagers that are still using tobacco," he said.
But the news on the e-cigarette front remained a bright spot in the findings.
"This is the first time we have seen a decline in e-cigarette use since we started measuring it in 2011," King said. "We believe the decline is the result of many things, the most notable of which is the effort by the public health community to educate the general public about the harms of e-cigarettes to youth and young adults."
The vapor produced by e-cigarettes is not harmless, King noted. It contains nicotine, which is highly addictive and can harm the developing adolescent brain. "But it also includes other ingredients, such as ultra-fine particulates that go deep into the lungs and heavy metals and volatile organic compounds," he said.
Despite the decline in e-cigarette use, King said it is essential to reduce all tobacco use.
"We don't want to get to a point where we're playing public health whack-a-mole, where we are allowing certain products to go up and others to go down. The goal is to reduce all forms of tobacco products," he said. "Youth use of any tobacco product is unsafe, irrespective of whether it's smoked, smokeless or electronic."
King is also concerned about the array of new tobacco products that may make their way to the market. There is a need to modernize tobacco control strategies to address the diversity of products, he said.
"We have made strides in the past decades to denormalize cigarette smoking, but the landscape is rapidly diversifying with a lot of new products," King said. "There is a lot of uncertainty and lack of knowledge in terms of what the health risks of these products are."
The researchers did find that the number of teens who used one or more tobacco products also declined from 2015 to 2016. This decline included smoking cigarettes or cigars or using hookahs.
But nearly half of those using tobacco products said they used several of them, the researchers reported.