Fire up the Fourth with tasty backyard recipes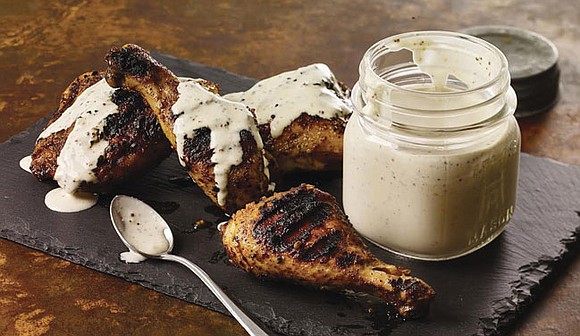 Fireworks, family and food are what the Fourth of July is all about. This year, add some spark to backyard staples like grilled chicken and potato salad with a little help from tangy condiments, smoky rubs and your cast-iron skillet.
For a main dish, that's sure to be a crowd pleaser, smother grilled chicken with a white barbecue sauce—the South's tangy little secret. It's made with simple pantry ingredients like mayonnaise, cider vinegar and mustard.
Make a one-pan side dish next to the cooking chicken by placing your cast-iron skillet directly on the grates. Smash whole potatoes in the pan then top with bacon, cheese and a chipotle seasoning. Let it all melt together and then top with sour cream for a smoking side.
Round out the meal with a festive cake that looks as impressive as it tastes. Dye white cake mix batter red and blue using food color then assemble in a flag shape with whipped cream and berries.
Find more recipes and ideas to fire up your Fourth of July at McCormick.com.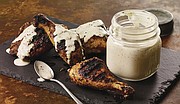 White Barbecue Sauce with Smoky Chicken
Prep time: 15 minutes
Cook time: 45 minutes
Servings: 6
White Barbecue Sauce:
1 cup mayonnaise
1/2 cup cider vinegar
2 tablespoons Zatarain's Creole Mustard
1 teaspoon prepared horseradish
1/2 teaspoon McCormick Coarse Ground Black Pepper
1/2 teaspoon McCormick Garlic Powder
1/4 teaspoon salt
Smoky Chicken:
1 cup hickory wood chips
2 pounds bone-in chicken parts
2 tablespoons McCormick Grill Mates Applewood Rub
To make sauce: In medium bowl, mix mayonnaise, vinegar, creole mustard, horseradish, black pepper, garlic and salt until well blended. Cover. Refrigerate at least 2 hours before serving to blend flavors.
To make chicken: Cover wood chips in water and soak 30 minutes. Season chicken with rub. Drain wood chips. Fill smoker box with wet wood chips. Place smoker box under grill rack on one side of grill before lighting. Close grill.
Prepare grill for indirect medium heat (350-375 F). Heat grill by turning all burners to medium. Once cooking temperature is reached, turn off burner(s) on one side. Place chicken on unlit side of grill. Close grill cover.
Grill, turning occasionally, 30-40 minutes, or until internal temperature of thickest part of chicken is 165 F. Move chicken to lit side of grill with skin side down. Turn lit side of grill to high.
Grill, uncovered, 3-5 minutes longer, or until chicken is charred. Serve chicken with White Barbecue Sauce.
Test Kitchen Tip: Refrigerate any leftover sauce and use as salad dressing, condiment for burgers or dipping sauce for pretzels and vegetables.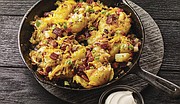 Grilled and Loaded Smashed Potatoes
Prep time: 15 minutes
Cook time: 25 minutes
Servings: 12
1 1/2 pounds medium Yukon gold potatoes
1 tablespoon vegetable oil
5 teaspoons McCormick Grill Mates Bacon Chipotle Seasoning, divided
6 slices Applewood smoked bacon, cut into 1/4-inch pieces
1 cup chopped yellow onion
1/2 cup chopped red bell pepper
1/2 cup shredded cheddar cheese
2 tablespoons finely chopped green onions
1/4 cup sour cream
Heat grill to medium.