Remembering legendary Black Republican Bill Coleman
Raynard Jackson (NNPA Newswire Columnist) | 6/15/2017, midnight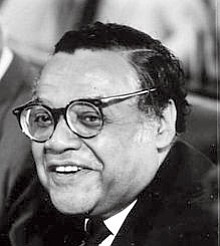 William Thaddeus Coleman, Jr. died on March 31, 2017 at the ripe old age of 96. He was the most famous and most accomplished person you have never heard of and he was also a good friend of mine. I used to affectionately call him "my oldest son."
I was told early in my life, "Never try to explain your vision to anyone, but rather invite them to stand beside you and see for themselves."
That's what Bill gave to me. Yes, I called him Bill, because he insisted that I do so. I knew Bill for almost half of my life.
This is why most people have little to no understanding of me and who I am. I have sat at the feet of some of the biggest names in sports, entertainment, politics, business, and religion, etc., and to be able to call people like Bill Coleman, Bob Mosbacher, Kenny Gamble, Dave Steward, Oral Roberts, Bona Malwal, Bill Duke, Bishop Macram, and Max Gassis friends is nothing short of amazing.
So, as I scoured the Internet and various media sites upon being notified of Coleman's death, I was dismayed that neither the White House, nor the Republican Party's leadership reached out to the family; or, at a minimum, issued any public statement of condolences to the family.
Adding further to my dismay was the silence of Black Republicans who have a media platform.
Unfortunately, most Republicans and most Blacks have no idea who Coleman was, but I did have the pleasure of him honoring him with the first Black Republican Trailblazer Award back in 2013. I think my event was his last public appearance.
Bill Coleman was born in Philadelphia in 1920. Though he had a middle-class upbringing, that didn't shield him from racism and discrimination that every Black faced during that time. But, like most Blacks, he overcame.
His family, on his mother's side, came from a long line of Episcopal ministers and was an intricate part of the Underground Railroad. Growing up, it was not unusual for the likes of W.E.B. DuBois and Langston Hughes to drop by the family home for dinner.
As these luminary figures of the Black community took time out for Coleman, he returned the same by making time for people like me.
According to his 2010 biography, "Counsel for the Situation: Shaping the Law to Realize America's Promise," Coleman graduated summa cum laude from the University of Pennsylvania in 1941. He then attended Harvard's Law School, but left to join the Army Air Corps; after his service, he returned to Harvard and graduated first in his class magna cum laude in 1946. He was the first Black to work on the Harvard Law Review.
He went on to become the first Black to clerk for a justice of the U.S. Supreme Court, Justice Felix Frankfurter.
He accomplished all this after being suspended for a few days for cursing at one of his Germantown High School teachers who said to him, "Someday, William, you will make a wonderful chauffeur." This is one of my favorite stories from him.