'Jesus' spotted in South Los Angeles
A talk with the man who carries the Cross
By Omar A. Muhammad | Th.M TKU Adjunct Professor | 6/15/2017, midnight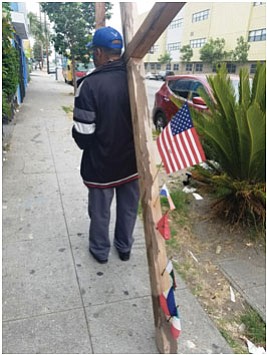 Verdun's story took a darker turn after his mother Margaret Boutte Verdun died on January 21, 1974. Walter Dodge, the local funeral director at the Jacquemoud Funeral home in New Iberia, L., refused to provide funeral services for his mother because she was Black. He then sought out Fletcher's, a Black-owned funeral home, to make arrangements for his mom's burial service but when he returned to retrieve her body was charged a fee for the embalming, which he couldn't afford. He called his brother for assistance and when he arrived, so did 10 KKK members. To de-escalate the situation, Mr. Fletcher paid the fee to retrieve the woman's body. From that moment on Verdun became filled with rage and hatred and obsessed over revenge.
He eventually sought professional help and turned to God for direction.
Verdun says the command he received was to lay down his weapons and desire to kill and pick up the Cross of Jesus Christ. His direction was to reenact the walk of shame of Jesus Christ as he carried the cross for the liberation of humanity from sin, according to Christian belief.
For Verdun he sees this an act of contrition and repentance that brings about a level of peace of mind for his part of the war on humanity and his wife Marie believes it provides him "a sense of relief from the torment in his mind." This peace is supported by prayer, therapy, and medication (that the Dr. instructed him to take every day for the rest of his life). Marie said that only when Verdun started carrying the Cross did he begin to sleep through the night.

Verdun drew his inspiration to endure this redemptive work for almost 44 years from Jesus Christ and the Rev. Dr. Martin Luther King, Jr.
After 17 years of faithfully carrying out this divine mission in South Los Angeles, Verdun has become a local icon loved and respected by many of the locals, especially the children of the nearby Barack Obama Charter School.
The Cross that Verdun carries now is, in fact, his third. He left the first one in his hometown, Iberia, La. where he started carrying the mission. A friend crafted his second one in Los Angeles and it was stolen after he had taken his one-man crusade to Figueroa Street to carry the cross for the forgiveness of the sex workers and their patrons in area. The third iteration of the Cross of Christ was made and sponsored by members of the local churches in which he passes on his pilgrimage. The pastors had heard about the stolen cross and they wanted to be sure that Verdun could get back to his mission of being a "living sacrifice" for justice and world peace.
Verdun has the sense that he is coming to the end of his assignment but says he wants to get the message out that "War is not the answer." He is raising money for a truck so that he can take his cross to different cities and spread his message as he is led by God. He also hopes to one day carry his cross along the original path that Jesus did more than 2000 years ago in Jerusalem.
Before I left the home of the Verduns, Marie asked if I believed world peace was possible. I answered in the affirmative, I have hope because of people like Charles C. A. Verdun.
Anyone interested in helping to fulfill the hopes and dreams of this proven warrior for social justice and world peace is welcome to share this story on their social media platforms. Video of this interview is available on Facebook at https://www.facebook.com/omar.a.muhammad?hc_ref=SEARCH. Charles Verdun can be personally reached at (323) 396-4918.