'Jesus' spotted in South Los Angeles
A talk with the man who carries the Cross
By Omar A. Muhammad | Th.M TKU Adjunct Professor | 6/15/2017, midnight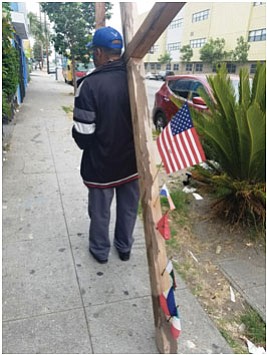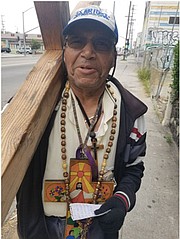 On June 2, I had the opportunity to meet Jesus on the corner of 56th Street and Western Avenue. He was in the form of Charles Camille Allen Verdun. I first caught a glimpse of this man carrying what looked like a giant nine-foot tall cross as he was just hitting the corner from his modest home on 56th Street near the corner of Western Avenue. This is the same corner that just the night before was a part of the Western Avenue sex worker's strip. This same corner becomes a pivotal point as Verdun converts it into a figurative The Via Dolorosa, the name of the sacred stretch of road in the famed old city of Jerusalem where his historical predecessor Jesus, The Christ had walked.
So, I was thrilled the other day when I saw him again. I jumped out of my car and stopped him in his trek to ask a few questions. He was gracious enough to endure my line of questioning; it was as though he was expecting it. I must be honest, I did not know what to expect. My first thought was that he was just another crazy person. One of the many mentally ill people on the streets of Los Angeles. But upon further inquiry, I discovered that he is not insane. He is rational and because of his passion for justice for the veterans and all people, he had been in letter correspondence with the former President Barack Obama and the Vatican office in Rome. In fact, I believe him to be quite sane. However, by his own admission, he is medicated and under the care of a psychiatrist.
One of the first questions I asked Verdun was why is he was carrying the cross? His response was simple. "I carry the cross for justice and world peace." This is made evident when you look at the vertical part of the cross where flags are posted from various countries with American flag being the tallest. Verdun told me that he regularly carries the cross from his apartment to the 8:30 a.m. Morning Mass at St. Brigid Catholic Church at 5214 S. Western Ave.
Upon closer inspection, I realized that Verdun was moreso dragging the cross than carrying it. He told me that it was not hard for him because he is only carrying 5 percent of the weight, and that God was carrying 95 percent of the weight with him. I had the opportunity to lift his cross. It was easily 70lbs and very uncomfortable.
Verdun is 73 years young and began carrying the cross after having been tormented by dreams of his tour in the Air Force in the US-Vietnam War. He intended to enlist for 20 years but due to the racial tension and disrespect of other Black men he decided to get out of the Air Force after almost eight years. (I was able to verify four years from his DD-214 honorable discharge form).
He recounted how he and other Black soldiers had been treated "worse than a dog," after their return from war; and he wasn't even able to acquire food stamps upon his return because he was told by a social worker that he made too much money from his fixed income of $1,700 a month.