Across Black America week of June 8, 2017.
Carol Ozemhoya | OW Contributor | 6/8/2017, midnight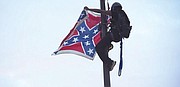 Arizona
The fierce—and at times—violent battle over whether U.S. Civil War memorials recognizing Confederate soldiers should remain standing has reached Arizona, reports ArizonaCentral.com. African-American leaders last week called for the swift removal of six Confederate monuments around the state. "(We will) discuss the meaning of Confederate monuments, how they impact the community and why Gov. (Doug) Ducey should immediately began the process of removal," leaders said in a statement. Representatives from the Maricopa County and East Valley branches of the NAACP, Black Lives Matter-PHX, the Arizona Informant newspaper and various religious organizations formed a coalition calling for the change. Tensions between supporters related to Confederate memorials and other symbols and those against them have exploded in the two years since a White supremacist killed nine and injured three Black members of a Charleston, South Carolina, church. In cities from St. Louis to New Orleans to Baltimore, those who believe the monuments glorify slavery and racism have clashed with others who view the memorials as symbols of Southern history and heritage. Others have criticized the memorial to Arizona Confederate troops at the state Capitol. Patrick Ptak, a spokesman for Gov. Doug Ducey, said the Governor's Office started looking into the process for a memorial removal or name change "a week or two ago" as rumblings about a potential call for removal intensified. The Confederacy claimed the lower half of what is now Arizona before it became a U.S. territory or state. More than 300 Confederate soldiers are buried here, according to the Sons of Confederate Veterans.
California
A poem written by a Black female student, which was recited during a California college commencement last month, was blasted as "hate speech" by some who heard it, reports the Blaze. Dee Dee Simpson of Sonoma State University in Rohnert Park recited from memory her poem, during which called out Republican President Donald Trump, police violence against Blacks and Fox News. The poem also contained a number of expletives—and in the end, school President Judy Sakaki emailed an apology. Parent Cara Freedman was waiting for her daughter, Alexa Grossman, to graduate and said she noticed others in the crowd shaking their heads after Simpson "dropped the F-bomb." "We were shocked," Freedman said. "I'm still a little bit shocked. What kind of school is this? Who in the world would allow this to take place?" Freedman and her ex-husband, Marc Grossman, each sent angry emails to Sakaki, who heard Simpson's poem up close. Sakaki responded to Grossman's email, regretting that Simpson's poem was recited and blamed a new graduation format for lack of oversight. "My people live in places you wouldn't drive through in an armored truck," Simpson told the crowd. Kim Baptista - who had been an editor with the campus newspaper and was waiting to receive her diploma - said she wasn't thrilled that Simpson recited her poem at graduation even though she sympathized with its content.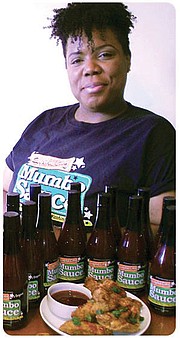 District of Columbia
The owners of a company that successfully commercialized Mambo sauce were honored recently with the Family Business Award by Black Enterprise, the business, investing and wealth-building magazine for African Americans, reports BlackNews.com. "It feels kind of surreal. We never won an award recognizing how much work we've done," said Arsha Jones, who, along with her husband, Charles, operates Capital City Co. out of a 2,000-square-foot warehouse in the area. "It feels really good to be recognized by your own." The Jones' received the prestigious award last month in recognition of their Capital City Mambo Sauce company, which started in 2011 in the kitchen of their suburban home. Every year at its Entrepreneurs Summit, BE recognizes African-American entrepreneurs for their accomplishments in cultivating successful small businesses. Only two months after selling their special condiment online, Arsha, a veteran web designer, was contacted by the Washington Post, which featured the couple and their sauce in a Sunday front-page article. That story led to more than 1,400 orders overnight and $25,000 in sales the first year. This year, sales are projected at $1 million. Arsha, a D.C. native, says her love of Mambo sauce - the origins of which date back to Black restaurants in the 1950s, and can now be found in nearly every Chinese takeout in the District - began as a pre-teen. "It's sweet and savory with a tomato base. It really goes well with things that are salty and fried. We have an inherent knowledge of Mambo sauce in D.C. Ours is easy on the palate." A cookbook from the couple will debut at Thanksgiving later this year.