Sheriff's department remains on alert in wake of terror attacks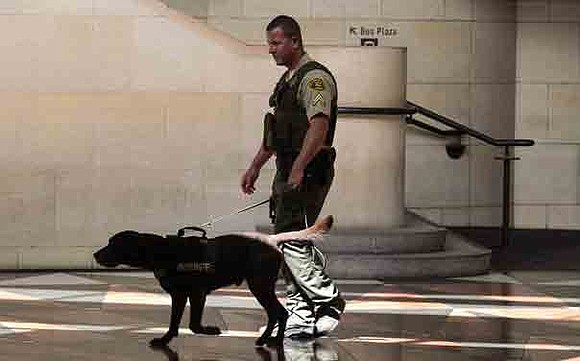 Security measures at major venues throughout the city continue to ramp up in light of the recent terrorist attacks following a concert in Manchester, England.
"Our thoughts and prayers are with the people of Manchester, England, as they work to deal with the challenging and troubling circumstances created by the horrific attack by Isis sympathizers," acccording to a statement released by the Los Angeles Sherriff's Dapartment.
"Los Angeles County is made up of a unique and diverse population. It is home to people from all over the world, including England. We stand united with our English residents, locally and globally. We at the LA County Sheriff's Department send compassion and prayers to those families who lost loved ones."
"While there have not been specific or credible threats received by law enforcement for the greater Los Angeles area since the terrorist attack outside Ariana Grande's concert in Manchester, our personnel maintain a heightened state of situational awareness and remain vigilant in the protection of our communities."
The Los Angeles County Sheriff's Department employs thousands of uniformed deputy sheriffs who are on-duty 24-hours a day, seven days a week, patrolling and protecting the many diverse and varying communities of Los Angeles County.
"As we go about our day, we ask the public to remain vigilant and report any information about potential incidents to their local law enforcement. If you prefer to provide information anonymously, you may call "Crime Stoppers" by dialing (800) 222-TIPS (8477), use your smartphone by downloading the "P3 Tips" Mobile app on Google play or the Apple App Store or by using the website http://lacrimestoppers.org.
Remember, "if you see something, say something," said Sheriff Jim McDonnell.
Last week's suicide bomb attack in Manchester killed 22 people (including children), and injured 119 more.
After the initial tradgedy, three shows following Grande's "Dangerous Woman" European tour were suspended and four shows the scheduled by the English pop group "Take That" also postponed its shows.
Katy Perry, Lorde, Lana Del Rey, Imagine Dragons, Shawn Mendes and the Chainsmokers went ahead with performances in Hull, England, at BBC Radio 1's Big Weekend, according to TMZ. Hull is about two hours from Manchester.
According to a statement by representatives for Grande's European tour dates through June 5 were canceled, including dates in London, Belgium, Poland, Germany and Switzerland. The tour will resume in Paris on June 7. Refunds will be granted for the canceled shows, according to the Associated Press.
The suicide bomber in Manchester appears to have adopted the latest technique in the terrorist playbook, said John Reese of Synrgy Global Entertainment which promotes many local festivals, including the Blackest of the Black metal fest in Orange County and the Lost Highway Motorcycle and Music event in San Bernardino County.
Instead of trying to penetrate the secure perimeter of a building or event, he appears to have struck just at that edge, detonating his improvised explosive device just as thousands of fans, many of them quite young, started streaming out of the building at the end of the show.