Across Black America week of June 1, 2017.
Carol Ozemhoya | OW Contributor | 6/1/2017, midnight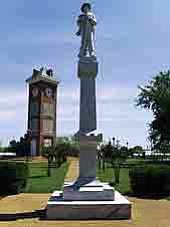 Alabama
A new bill signed into law May 25 by Alabama Gov. Kay Ivey (R) protects Confederate monuments in the state, even as other states have started to do away with them, reports the Huffington Post. The Alabama Memorial Preservation Act of 2017 disallows removing or renaming any memorial streets or buildings on public property that have been in place for 40 or more years. Those monuments include a piece dedicated to Confederate soldiers in Birmingham's Linn Park, named after Confederate captain Charles Linn; an obelisk for a fallen Confederate in Anniston; and the Alabama Confederate Monument, which sits on the grounds of the state Capitol in downtown Montgomery. State Sen. Gerald Allen (R-Tuscaloosa), who first proposed the bill, praised the governor for signing it into law. "I appreciate Gov. Ivey standing up for the thoughtful preservation of Alabama's history," Allen said. The Southern Poverty Law Center disagrees: "These racist symbols have no place on government property, where they counter our nation's core principle to ensure liberty and justice for all," said Rhonda Brownstein, legal director for the SPLC. "Other states and municipalities are removing these monuments from public property and placing them in museums, where people can learn the full history of slavery, the Civil War and the Confederacy. That's where they belong."
Illinois
One Chicago official is speaking out against "racist" flyers circulating around the city that are urging Black residents to report undocumented Latino immigrants to authorities, report NewsOne. The flyer says that "Sanctuary city policies endanger the lively hood[sic] of every American [sic], while violating federal law and destroying the Black community." The flyer claims there will be a reward of $3,000 to $10,000 "per illegal reported" and asks that people "help Atty. General Jeff Sessions help U.S. Black people." The "flyer claims that Latino immigrants are taking jobs away from African-American Chicagoans," said 15th Ward Ald. Raymond Lopez. "Don't fall for this phony argument." Information about the flyers is said to be spreading after Attorney General Jeff Sessions signed an order May 22 that sanctuary cities will lose Justice Department and Homeland Security grants, reports the Chicago Tribune.
---
The Springfield Black Chamber Of Commerce backs the concept of a downtown casino, though the group acknowledges odds are against the proposal in the short run, reports the State Journal Reporter. Chamber president and CEO Dominic Watson said last week the group planned to provide a letter of support to Springfield developer Chris Stone, who has been pitching the idea of a casino to state and local elected officials. Stone himself acknowledges a casino is a long shot, though Statehouse watchers know stranger things have happened in the frantic, closing days of a legislative session. Stone already is involved in the gaming industry as owner of Lucy's Place video-gambling parlors. "We know it's in the early stages, but we think it's a great idea for Springfield," Watson said. The chamber has approximately 30 member businesses, he said, with young professionals also involved. Watson said support for a casino is based primarily on the potential economic benefits, including jobs, but that tax revenue also could be used to support a variety of educational and social service programs, as well as to rebuild the city infrastructure. Watson said the social costs of a casino were considered in the endorsement decision, including that low-income residents can least afford gambling and the need to support programs for gambling addiction. "We definitely discussed that," Watson said. "If everyone agreed to allocate jobs to minorities, women, disabled individuals and veterans, it would offset some of those challenges."