The fight for healthcare has always been about civil rights
In dismantling Obamacare and slashing Medicaid, Republicans would strike a blow against signature victories for racial equality in America.
Vann R. Newkirk II | OW Contributor | 7/27/2017, midnight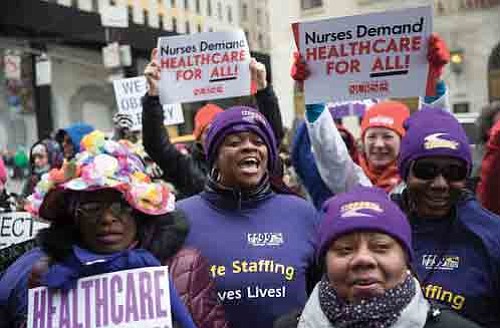 It was a cold March night when Dr. Martin Luther King Jr. turned his pulpit towards health care. Speaking to a packed, mixed-race crowd of physicians and health-care workers in Chicago, King gave one of his most influential late-career speeches, blasting the American Medical Association and other organizations for a "conspiracy of inaction" in the maintenance of a medical apartheid that persisted even then in 1966.
There, King spoke words that have since become a maxim: "Of all the inequalities that exist, the injustice in health care is the most shocking and inhuman." In the moment, it reflected the work that King and that organization, the Medical Committee for Human Rights (MCHR), were doing to advance one of the since-forgotten pillars of the civil-rights movement: the idea that health care is a right. To those heroes of the civil-rights movement, it was clear that the demons of inequality that have always haunted America could not be vanquished without the establishment and protection of that right
America's health segregation problem
Fifty-one years later, those demons have not yet been defeated. King's quotation has become a rallying cry among defenders of the Affordable Care Act, the landmark 2010 legislation that has come the closest America has ever been to establishing a universal guarantee of health care. Their position is in peril, as the Republican effort to repeal the law and create a replacement that could leave 22 million more people uninsured over the next decade and will slash Medicaid enrollment by 15 million now sits just days away from possible passage.
People of color were the most likely groups to gain coverage and access to care under the ACA, and in the centuries-old struggle over health, they have never been closer both to racial equality of, access and to, the federal protection of health care as a civil right. But if Republicans have their way, that dream could be deferred.
Just as the ACA's defenders find themselves between a once-in-a-generation victory and a potential equally devastating loss, so the MCHR found themselves in 1966. King delivered his address just months after breakthroughs a century in the making. In the height of the movement in the early 1960s that brought sweeping changes in voting rights, integration, and education, civil-rights actors had also won major victories in a push for universal health care. Chief among those victories were two of the defining pieces of 20th-century American policy: the Civil Rights Act in 1964 and the passage of Medicare and Medicaid in 1965.
African Americans work toward reform
Of course, the Civil Rights Act might not seem like much of a health-care bill, and Medicare isn't usually counted among major civil-rights victories, but as detailed in health-policy researcher David Barton Smith's "The Power to Heal: Civil Rights, Medicare and the Struggle to Transform America's Health System," they were complementary pieces of a grand civil-rights strategy.
Key to that strategy was the 1963 Simkins v. Cone lawsuit, filed by dentist and Greensboro, North Carolina, NAACP leader George Simkins against segregation in the local hospital. In finding in Simpkins'' favor, the Fourth Circuit Court of Appeals ruled for the first time that institutions receiving federal funds could not abide by the "separate but equal" legal underpinning of Jim Crow. That ruling in turn helped shape Title VI of the 1964 Civil Rights Act, which bars segregation and discrimination among entities that receive federal funding, and to this day provides the most effective legal mechanism for federal civil-rights cases.