Medical issues among African Americans encourage doctors to discover solutions
King Hospital working to bridge health divide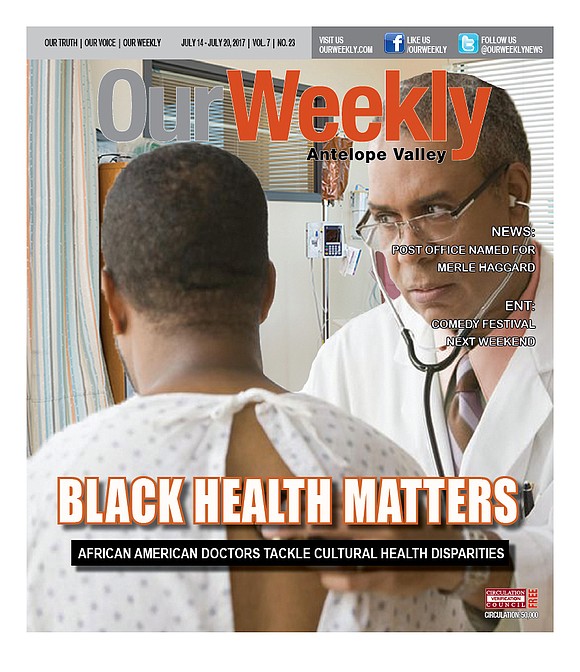 'Know Your Basics'
Batchlor explained the unique association of diabetes and African Americans in relation to a shortage of family physicians in the inner city. For generations, she said, Black persons have lived with the disease prior to any diagnosis and that circumstance can lead to more serious health problems, if left unchecked.
"We see so many patients show up at the hospital with bad conditions stemming from diabetes," she said. "This includes various infections and wounds related to diabetes; some of our patients have never managed their condition. That's why we have instituted extensive screening procedures through our "Know Your Basics" outreach campaign to have people become more familiar with their health issues."
The "Know Your Basics" campaign goes into the community to local parks, shopping centers, school campuses, etc. to spread the word about diabetes and how the disease can be a precursor to health issues such as high cholesterol and obesity. Last year, they screened more than 5,000 persons for diabetes, with another 7,000 examinations expected this year.
"The first step is to know your risks," Batchlor continued. "Our endocrinologist (a specialist in diagnosing diseases related to the glands) screens for diabetes everyday and has concluded that the main contributor to diabetes is obesity and a lack of exercise. Poor nutrition plays a significant role in Type 2 diabetes, so that's why we continually stress a balanced diet coupled with regular exercise. And this should begin at a young age, not when symptoms begin to appear at age 40."
The hospital is setting an example in something as simple as the cafeteria. Traditionally fried entrees such as chicken or fish are baked. Fresh fruit and berries have replaced most pastries and sweets. A wide assortment of steamed vegetables are part of the daily menu. Soft drinks are in limited supply. Instead, fruit juice, skim milk and lots of bottled water have been strategically placed to quench your thirst. "We want to set the example of a healthy diet for not only patients and visitors to the hospital, but to the staff itself. And the food is delicious," she said.
The 'silent killer'
High blood pressure, commonly referred to as hypertension, is another disease prevalent among patients. Hypertension has been called the "silent killer" because it can cause damage to many body organs without any symptoms. Uncontrolled high blood pressure can cause a heart attack, stroke, kidney failure, vision problems and even death. A report released last year by the Centers for Disease Control and Prevention revealed that 35 percent of African Americans have some form of hypertension, which accounts for 20 percent of this community's death rate in the United States. That's twice the percentage of deaths among Whites from hypertension. Further, African Americans with high blood pressure have an 80-percent higher chance of dying from a stroke than the general population.
"This is an 'asymptomatic' disease in that you don't know you have it. It is definitely a contributor to kidney failure," Batchlor said. "[Hypertension] is an important aspect of our screening process and we are working to educate people on how to manage this condition. Again, exercise, diet modification and the proper medication are keys to addressing this issue. We want to intervene early—get in front of the case—before it becomes a serious condition."