The union that roars: Nurses not giving up on single-payer push
Pauline Bartolone | California Healthline | 7/13/2017, midnight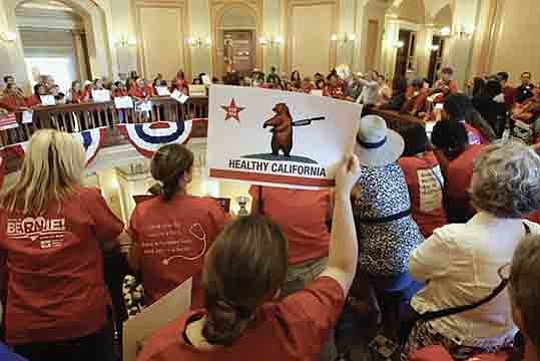 To some, the California Nurses Association's political tactics in pushing for a single-payer health system seemed a bit, well, extreme.
Never mind the raucous demonstrations it brought to the state Capitol in recent weeks, the "shame on you" chants in the hallways, the repeated unfurling of banners in the rotunda despite admonitions from law enforcement.
To further the nurses' cause, the union's executive director, RoseAnn DeMoro, tweeted out a picture of the iconic California grizzly bear being stabbed in the back with a knife emblazoned with the name of a powerful state lawmaker who stalled the single-payer bill sponsored by the union.
Before and after that tweet, the legislator—a Democrat—said he was besieged by death threats.
Meanwhile, the union's public relations guy blasted a blogger for Mother Jones magazine—named after the famous union firebrand—for being insufficiently liberal in his single-payer coverage. "Maybe you can recommend the name of your magazine be changed … to Milton Friedman, which would better reflect your class sympathies," communications director Chuck Idelson wrote acidly.
Dramatic and, to some, offensive, such tactics are nothing new for this California union of about 100,000 registered nurses, which has made a name for itself in the state and nationally as a progressive and aggressive political powerhouse. Its reach has only broadened with the advent of social media. Leader DeMoro counts more than 29,000 Twitter followers, and CNA's operation has a knack for mobilizing protesters and drawing crowds.
"The politicians are afraid of these angry intense grass-roots activists" mobilized by the union, said Mike Madrid, a Republican and principal at the public affairs firm Grassroots Lab, who believes the tactics could backfire. "Using fear and intimidation as a tactic in the legislature usually doesn't get you too far."
Others are impressed with the union's drive and creativity, recalling how in 2005 CNA members taunted California's then-governor, Arnold Schwarzenegger, trailing him wherever he went to protest his attempts to roll back hard-won nurse-to-patient requirements in hospitals. Activists dressed up as the Republican leader and staged theatrical protests at baseball games, rock concerts and even the San Francisco Ritz-Carlton.
In the single-payer fight, the union has shown it will go just as fervently after Democratic leaders in a heavily Democratic legislature. While the union isn't responsible for everything freelance activists do in a campaign, the Assembly Democratic caucus has condemned the "bullying tactics" and violent rhetoric in the CNA-led effort.
Although not always admired for its approach, the CNA often gets results—or works up a sweat trying. It counts among its legislative successes the 1999 passage of the strict nurse-to-patient ratios, the nation's first such mandate to bolster staffing in hospitals. It has fended off attempts to overturn that law, worked to protect employee pensions and pushed for campaign financing reform. And it lent its considerable political muscle to Bernie Sanders' presidential campaign.
Historically, the nurses have had the upper hand in labor negotiations, says Joanne Spetz, director of the Health Workforce Research Center at UC San Francisco. That's partly because in some areas of California, it represents most or all of the registered nurses, including many thousands who work for the managed-care giant Kaiser Permanente. (Kaiser Health News, which produces California Healthline, is not affiliated with Kaiser Permanente.)