Across Black America week of July 13, 2017.
7/13/2017, midnight
Alabama
While test scores in Alabama schools generally mirror poverty levels, low income is only one factor impacting learning, research has shown, reports AL.com. The Alabama state department of education chief academic officer, Dr. Barbara Cooper, is charged with improving achievement for the 730,000 students in Alabama's public schools. "Even in places where students are affluent, there is still a Black-White achievement gap," she said. "So poverty is not the answer there. These students are still performing significantly below [their White peers], and their parents are making six figures." Even though Black students in affluent areas perform better than Black students in impoverished areas, there is still a gap. "The achievement gap is the difference in proficiency levels of Black students and White students. Statewide, that gap is large, between 20 and 30 percentage points in any given subject area.
Arkansas
The Little Rock Black Police Officers Association sent a letter to the Little Rock City Board of Directors, alleging racial discrimination by Police Chief Kenton Buckner, reports KATV ABC News. Members of the LRBPA say they're speaking out now after repeated attempts to bring their grievances to Chief Buckner and city manager Bruce Moore. In the letter obtained by ABC's Channel 7 News, the organization members are calling for an independent investigation into the "discrimination, inequities and disparaging treatment of minority officers and supervisors under the command of Chief Kenton Buckner." They're also asking for Buckner to be disciplined, if found to be not in compliance with policy. In the letter, they write that Buckner has displayed conduct unbecoming of a chief. Sgt. Willie Davis is just one of the members that says Buckner has repeatedly shown he is not in support of minority officers. "The first thing he said was to get rid of the Black police association. There was no need for one. Then he tried to explain why. That insulted a lot of us," Davis said. The letter alleges discrimination against minorities for promotions and transfers as well as inconsistency in discipline procedure between White and Black officers and supervisors. "It's our responsibility to make the chief, the city manager and the governor accountable (for) the actions the city is making and the things they do in their department," Davis said.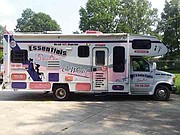 District of Columbia
Salon DeJuan announced the opening of its second De Glam Shoppe Mobile Hair Salon in the metro area at the physical salon location at 5608 St. Barnabas Road, Oxon Hill, reports BlackNews.com. It's considered the first Black mobile hair salon in the Washington, D.C., metropolitan area. The De Glam Shoppe allows DeJuan to travel along the East Coast as far as Atlanta, showcasing more than 15 years plus of experience as a hair stylist, nail tech and budding entrepreneur with her own signature hair care product line. DeJuan is a celebrity stylist and also offers free stylist services for veterans and those suffering with severe hair loss from cancer She also is gearing up for a new reality show relating to the hair industry.