Neighborhood Watch provides important tools to keep family, community safe
Palmdale National Night Out set July 26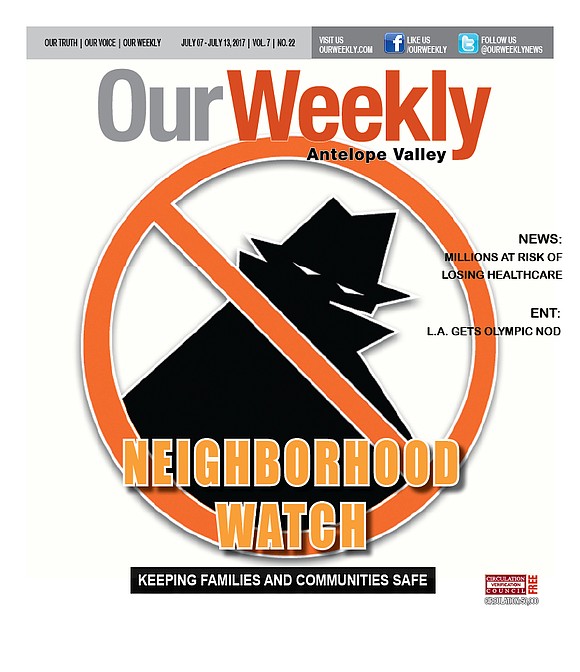 Having a safe, secure and informed neighborhood that communicates is a helpful way to maintain a happy and peaceful home life. It is always a good idea to take a more active role in your family's safety, therefore Neighborhood Watch brings households together to help prevent or reduce crime. When potential criminals see "Neighborhood Watch" signs in windows, this means that homeowners have become more vigilant in protecting their property and those around them. Law enforcement has long believed that when a neighborhood takes a responsible role in its own safety, it can only serve to alleviate the pressures on already strained law enforcement budgets. It serves everyone well for the Neighborhood Watch program and the local police to work together to help prevent crime.
Law enforcement helps the watch program by providing training, equipment and officers who may be assigned to the program. These officers, who may be assigned to patrol a certain neighborhood, attend Neighborhood Watch meetings and help residents understand the potential for crime and explain what issues the watch needs to consider by providing the latest crime reports and statistics.
Getting to know your neighbors can be challenging, particularly in light of daily responsibilities of parenting, work, and the general duties of home life. A Neighborhood Watch serves a purpose besides public safety, and that is being neighborly. When a person is called upon to help ensure the safety of their neighbors, there is a natural tendency to get to know one another better, say officials. A watch meeting or program, in general, can be a natural impetus for learning more about one another's lives and families. Neighborhood Watch can promote a general sense of well-being that overlaps into the social realm, and can give even more reason to look after your neighbors.
"Are We Safe" survey
The National Crime Prevention Council, with support from ADT Security Services Inc., releases a periodic crime survey called "Are We Safe" which measures attitudes and behaviors about crime prevention throughout the country. Despite decreases in crime, the latest survey taken in 2014 found that fear and anxiety about crime persists. Basically, the survey found, if people don't feel safe in their respective communities, we change our activities and withdraw from community life. This negative chain is said to perpetuate itself by generating more fear, isolation and increased crime. Among the survey findings were:
—Seventeen percent of the people surveyed said they were more fearful of walking in their neighborhoods [this] year than last;
—Nearly one-half of the respondents could name at least one program in their community that helps to prevent crime. Neighborhood Watch was cited by 45 percent of those surveyed;
—Approximately one in six Americans (or 17 percent of volunteers ) are in a program that prevents crime. Of those who are volunteers, four in 10 work with Neighborhood Watch.
The survey also looked at the concern people have about the safety of their children, and what risks are posed when they are exposed to crime and violence in their neighborhoods: