Moving sports franchises has differing effects on local Black businesses
Carol Ozemhoya | OW Contributor | 7/6/2017, midnight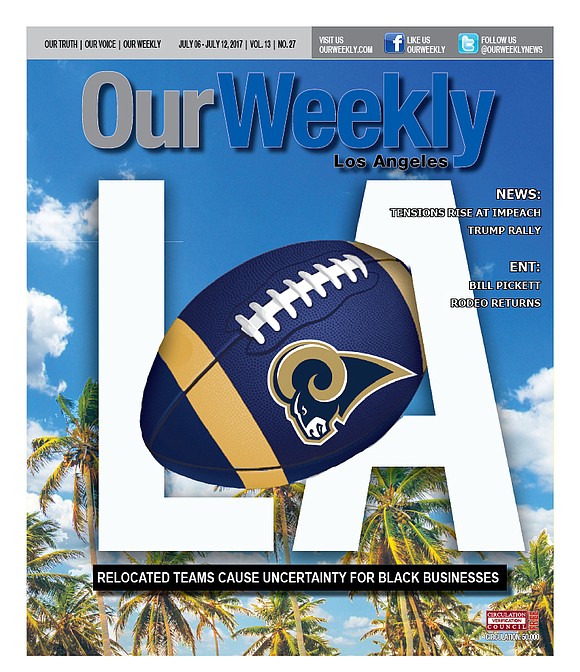 Phillip Bell owns Southern Café, which has two locations in the Oakland area, with one just 15 minutes from the Oracle where the Warriors play. He says he's not sure how much the moves will hurt his businesses economically because his restaurants boasts big flat screen TVs and people come to eat and watch the games.
But for him, a Warriors season ticket holder, moving the team will be a major inconvenience. Normally, he just has to drive about 15 minutes, but once the team moves, he says the drive is much longer, and it will be in heavier traffic.
As to his restaurants, "It won't cause us to close but it will hit us in our pocketbooks," he says. He thinks he'll lose business, too, from fans because they are "mad."
"Some are die-hard fans and will still support the Raiders, but some are mad and might not want to be supportive anymore. These are fans that were loyal and supported them when they weren't winning."
Bell says he's hoping before the Raiders leave (they are scheduled to start play in Las Vegas with the 2020 season), they will make Oakland proud.
"I am hoping that before they go, they will win a Super Bowl."
Crystal Cole, president of the Oakland African American Chamber of Commerce, says that the impact will be emotional as well.
"One of the main impacts will be the loss of the team that the people here grew up with and have gotten attached to," she said. "Emotionally, there is hurt."
Like Conner, she says she is concerned about the loss of Black business as well. "When the fall comes and football season comes, a lot of entrepreneurs involved in selling memorabilia and T-shirts will lose out … that's a big concern."
The Warriors' departure will also be felt. "We fought tooth and nail trying to keep them here," she reflects. "A lot of people will go watch them across the way, but some businesses will feel the loss. They depend on revenue and traffic from those games."
She adds, "Suppliers will suffer as well … like cleaners, those who produce everything from toilet paper to hot dogs, those who provide security work and anyone else that provides professional service to the arena."
Marcus Thompson II, a writer for the San Jose Mercury News, calls the move by San Francisco to "steal" the Warriors, a "final slap in the face."
"For 50 years, Oakland has embraced the Warriors. This city was the refuge back when San Francisco didn't support the Warriors and then-owner Franklin Mieuli was ready to bounce to San Diego," writes Thompson. "This region, with its rough edges and focus on loyalty, made the Warriors relevant when the franchise wasn't shiny enough to attract San Francisco's wealth. Oakland made the Warriors. The East Bay made the Warriors."
Adds Thompson, "So even though the grass might be financially greener in San Francisco, the theme is common: this area isn't good enough. This is about business, no doubt, about Warriors owner Jacob Lacob maximizing his investment. It's about getting money. The problem with that is, the fans' dedication wasn't about money. "It was personal. It always will be. Business decisions don't go over well in personal relationships. And when you chose the girl across the street, it really hurts. You have to be from here to understand why San Francisco is that."