Across Black America week of July 6, 2017.
Carol Ozemhoya | OW Contributor | 7/6/2017, midnight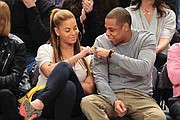 California
Variety reports that Jay Z and Beyoncé brought their newly born twins home from the hospital last week not to the swanky estate in L.A.'s Holmby Hills they rented a couple of years ago at a reported rate of $150,000 per month or to a Beverly Hills estate once owned by Madonna, where they reportedly holed up during her pregnancy… but rather to the so-called La Villa Contenta, an even larger, more lavish and profoundly pricey, 6.3-acre compound in Malibu that rents for $400,000 per month. Should the decide they like La Villa Contenta, it's additionally for sale at $54,50,000, a sky-high price by any standard but almost a third below the rose-tinted $75 million price tag the compound's owner, real estate developer Richard Weintraub, first asked for the super-luxe spread when it came for sale amid a flurry of international publicity in 2010. Sequestered behind an imposing gate, a forbiddingly high hedge and abundant mature foliage, the heavily fortified compound, on a high bluff with panoramic coastline views but, alas, no direct beach access, is anchored by a Mediterranean inspired main villa that measures in at around 12,000 square feet with three en suite guest and family bedrooms and a couple of staff bedrooms plus a major-league master suite with fireplace, large private terrace, two bathrooms and his-and-her closets.
Florida
They are being called "baby gangstas." They are six teens, ages 14-16, who stole cash and goods from high-end homes and used the proceeds to buy themselves jewelry and cars for their parents, reports the Fort Lauderdale Sun Sentinel. The six boys charged last week with breaking into a home and stealing a Porsche, a safe stuffed with more than $200,000 in cash and two loaded handguns were so young that only one was old enough to drive. But the Fort Lauderdale teens—ages 14 to 16—are experienced in crime well beyond their years and have lengthy rap sheets, authorities say. One of the teens, Rural Scott, 15, was on probation and wearing a court-ordered ankle monitor, when he told investigators he served as lookout during a April 27 break-in in Fort Pierce. St. Lucie County Sheriff Ken Mascara called the teenagers "thugs" who "intentionally targeted our community, searched out a house in an affluent neighborhood and stole their life savings." When charged with burglary and grand theft this week, all six of the teenagers were already in custody on other charges. The teens are accused not just of committing the theft, but of recklessly flaunting the fruits of their crime. After getting away with the guns, the car and the loot, the teens went on a spending spree, police said. One youth claimed he bought permanent gold teeth for $11,000; a $10,000 gold chain; a $3,500 gold bracelet; an $80,000 Dodge Challenger Hellcat for his mom, which he put in her name; and a $25,000 2009 Mercedes C300 in his brother's name.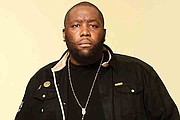 Georgia
Back in 2011, Killer Mike opened up his SWAG Shop in Atlanta, a barber shop where the name stands for Shave, Wash and Groom, reports Billboard. Today, he's announced that he's expanding the business' horizons and opening up a new location in the Philips Arena where the Atlanta Hawks are based. The arena is undergoing renovations soon, and a SWAG Shop location will be included. "I'm very happy that the front porch of the Hawks is going to be host to a SWAG Shop," Mike said in a statement. "It really is like a dream coming true because now kids are going to be coming down early just to hang out in my shop, buy a t-shirt, get a haircut and watch the game."