Across Black America Week of Jan. 26, 2017.
Carol Ozemhoya | OW Contributor | 1/26/2017, midnight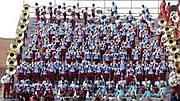 Alabama
The Root and the New York Times (NYT) are reporting that the Talladega College band's trip to perform at Donald Trump's inauguration was mostly funded by fans of Fox's "The O'Reilly Factor." The HBCU's president, Billy Hawkins, Ph.D., appeared on the show and made a statement on how the band was having trouble raising the $75,000 needed in order to make the trip to Washington, D.C. A GoFundMe page was mentioned on O'Reilly's show. At the time, the page had only raised about $50,000. But after the mention on Fox, the amount raised jumped to more than $333,000. According to the NYT, members of O'Reilly's audience, which is considered White and conservative, applauded the students' "courage and independence."
California
A New Way of Life Re-Entry Project has partnered with McKinney and Associates to highlight women's experiences with mass incarceration through a new multimedia storytelling platform known as JustUS Voices Storytelling for Change. The collaboration is being billed as "a special opportunity for formerly incarcerated women to be heard in a compelling space," according to Susan Burton, founder and executive director of A New Way of Life. She added, "The dialogue on mass incarceration focuses primarily on the experiences of men. We refuse to ignore or diminish the realities mass incarceration has visited upon our children and families. JustUS Voices—through video, interviews, guided storytelling, social media and live public events—will broaden the conversation to include JustUS Women." For info or to contribute, go to www.anewwayoflife.org.
District of Columbia
Richard Spencer, the self-proclaimed White nationalist and leader of the "alt-right" movement (a phrase he coined), was punched in the face at a Trump inauguration protest last Friday after denying that he was a Nazi, reports the Root. Spencer was speaking in front of a group of people who were asking him questions such as, "Are you a neo-Nazi?" to which he responded "no." He was then asked if he liked Black people, and he said, "Why not? Sure." Someone else asked, "Would you marry a Black woman?" Spencer did not answer that question. He then told the group that neo-Nazis and members of the Ku Klux Klan actually hate him, and it is at that point that a man walked up from the crowd and punched Spencer in the face. The assault was featured on video and shows Spencer was punched by a White person.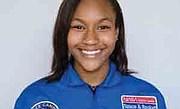 Florida
She's only 13, and an aspiring astronaut, but this Black teen has already affected hundreds of young girls' lives. Jacksonville teen Taylor Richardson raised more than $14,000 to send her peers to see the movie "Hidden Figures," which has already won Golden Globes awards and is expected to bring home Oscars as well. According to the entertainment content company Mashable, after having the opportunity to attend a "Hidden Figures" event at the White House in December and view a special screening of the film, Richardson decided to raise money to send other young girls to see it. She created a GoFundMe page with the goal of raising funds to send 100 girls to see "Hidden Figures," in addition to giving them each a copy of the book and movie snacks, of course. Richardson explained on her GoFundMe page, "I left D.C. feeling incredibly inspired to pay it forward for some girls in my community to have a special viewing as well. It's important that girls not only look at the stars but take the steps to reach for them."