Across Black America week of Jan. 12, 2017.
Carol Ozemhoya | OW Contributor | 1/12/2017, midnight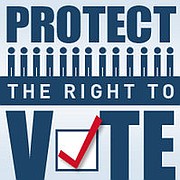 Alabama
Voter suppression is alive and well, and a case in Alabama's Black Belt proves it, reports The Root. When the Alabama Law Enforcement Agency announced the closure of 31 driver's license offices in 2015, a journalist in the state showed that the state's "Black Belt"—the region of the state that takes its name first from the color of its soil as well as for the high concentration of (economically depressed) African Americans who live there—was especially hard hit. In fact, Alabama.com reports that of the 10 counties with the highest proportion of Blacks, the state closed driver's license offices in eight. Journalist Kyle Whitmire reports that the closures came on the heels of Alabama requiring photo ID at the polls, a change the state enacted immediately after the Supreme Court gutted the Voting Rights Act in June 2013. This is significant because DMV offices are where most people can get the most common form of photo ID. After being sued by the NAACP last month, the United States Department of Transportation investigated and found "that African Americans residing in the Black Belt were disproportionately underserved by ALEA's driver licensing services, causing a disparate and adverse impact on the basis of race." Under an agreement struck between state and federal agencies, ALEA agreed to reopen and add more hours of service to the Black Belt offices. The Root says that many believe this is just one of many acts of suppression that Blacks in Southern states will continue to face moving forward, especially in light of the new administration and possibly a more conservative Supreme Court.
California
Colin Kaepernick took steps to give back in a new way by donating most of his massive shoe collection to Bay Area homeless shelters. Kaepernick had so many shoes that he was forced to convert his garage into a closet. But the San Francisco 49ers, quarterback didn't just donate hundreds of pairs of shoes … he also donated clothing and books to shelters and orphanages at the end of the football season.
Georgia
Queen Latifah is in Atlanta, the so-called "Hollywood of the South," to work on Lee Daniels' new Fox series, "Star." But apparently carjackers could care less about Latifah and her "star" status. All the south Fulton County thieves know is they saw an opportunity to do what they do: jump into a driver's seat while someone was pumping gas and hightail it to somewhere else. According to Fox 5, Fulton County Police said another driver was driving Queen Latifah's vehicle alone when someone stole her car. The incident happened last month at a Shell gas station on Fulton Industrial Boulevard. Police said the driver of the 2015 Mercedes Benz S63 was pumping gas when a white BMW pulled up beside him, then he heard the vehicle ignition start and saw Latifah's vehicle speed off. Authorities then made contact with the owner of the vehicle, identified by Queen Latifah's real name, Dana Owens. Police said Atlanta officers tracked down the vehicle to an apartment complex in Southwest Atlanta; security said they spotted three males near the vehicle, as well as a white BMW and a Dodge Charger (a similar vehicle was reported stolen in College Park). Police said in their report, Latifah inspected the recovered vehicle, and found lemonade and fruit punch bottles left behind by the thieves.